Kalia appeals to farmers' unions reconsider Central Government proposal as BJP also party of farmers 
Says the Farm Laws infact have been brought by NDA Government to ameliorate the economic condition of the farmers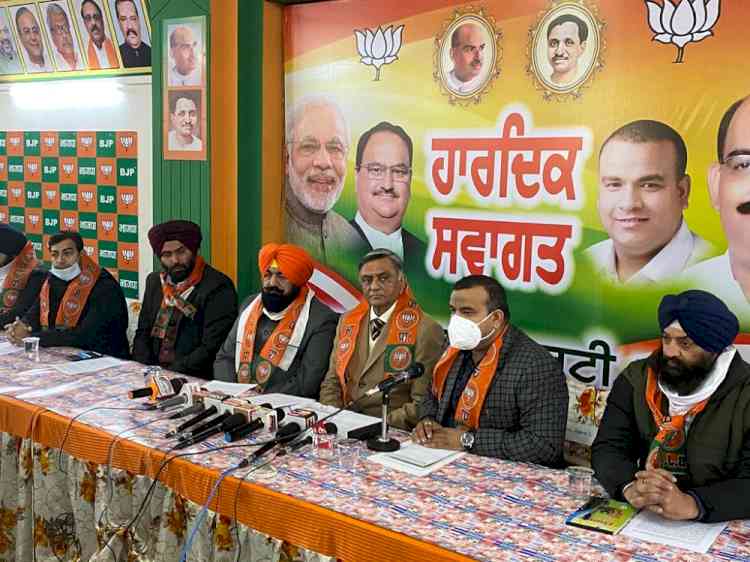 Jalandhar: Former Minister Punjab and former state president BJP Manoranjan Kalia today said that the Farmers' Unions have kept up-till now their agitation on Farm Laws non-political. All the political parties except BJP have extended their supports to the Farmers' agitation but Farmers' Unions  did not own any political party. Now Farmers' Unions have decided to keep the religion at abeyance so that agitation against Farm Laws remains circumscribed as Farmers' agitation. Farmers' Unions   have also decided to consider  whenever the Central Government  invites for talks.  Both the decisions of Farmers' Unions are appreciable.
Addressing a press conference here today, he added that the NDA Government's proposal to have seven amendments in two new  laws----The Farmers Produce  Trade  and Commerce (Promotion and Facilitation) Act, 2020 and the Farmers (Empowerment and Protection) Agreement of Price Assurance and Farm Services Act, 2020 though  water-downs much of the Farmers' grievances &  protects Farmers' interest vis-a-vis  Corporates   but the same stands rejected by Farmers' Unions which sans reasoning.
Farm Laws give an option to Farmers to sell their produce either in the designated Mandis under APMC Act or in the  private Mandis of Corporates. If the Farmers decide not to sell a single grain of their produce to the Corporates, they are free to do so and can sell their Farm produce in the designated Mandis in the APMC Act. If the Corporates give better price than MSP, Farmers have the option to sell their produce to Corporates.
It is not for the first time that Modi Government has acted for the benefit of the Farmers, but earlier also  it has taken many steps of its own to watch the interest of the Farmers like Direct Benefit Transfer of Rs. 6000 in the account of the Farmers, Kissan Crop Insurance Scheme, opening of Animal Disease Centre, Pushing Herbal Farming, encouraging farmers to raise honey bee, introducing neem coated urea, scheme of Operation Green in which Government has taken huge steps to ensure   that Farmers get their fruits and vegetables soled at remunerative prices and cultivate for more areas to grow vegetable and fruits etc.
Kalia appeals to the Farmers' Unions    reconsider the Central Government proposal as BJP is also a Party of Farmers who have voted twice in favor of BJP to make Sh. Narender Modi Prime Minister of India and will not like to have a scratch on Farmers interests. The Farm Laws infact have been brought by NDA Government to ameliorate the economic condition of the Farmers.
Sukhwinder Singh Grewal, National Secretary, Kissan Morcha, Bharatiya Janata Party,   Sushil Sharma, District President BJP, Jalandhar and others  also present in the press conference.