Jungheinrich revolutionizes India's logistics operations, to increase its footprint in India
Jungheinrich opens its new integrated facility in Bhiwandi, Maharashtra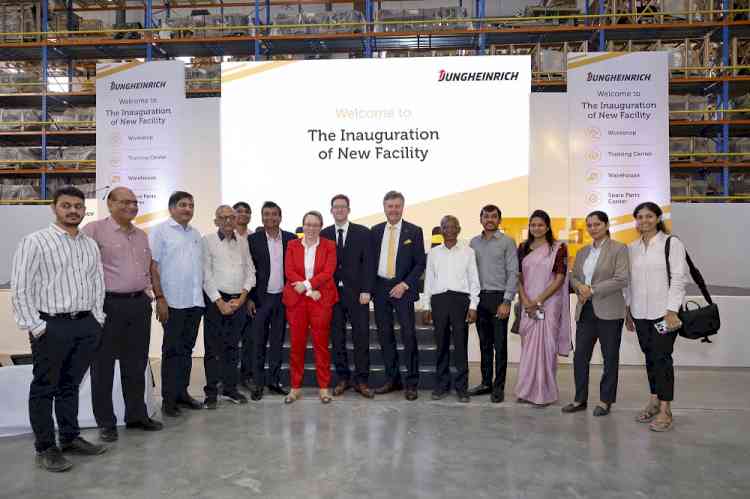 Mumbai: Jungheinrich, a German giant in the field of warehouse equipment and intralogistics, with a decade long presence in India, opens its new integrated facility in Bhiwandi, Maharashtra.  The facility comprises Equipment & Spare Parts Warehouse, Workshop & Training Center for its all-electric forklifts trucks and warehouse equipment. What sets Jungheinrich apart is its focus on automation and its environmentally sustainable approach.
The Indian market for material handling equipment is currently around 20,000 units a year and is likely to grow at double-digit CAGR for the foreseeable future. The company, besides initiating the modernisation of warehouse working in India, is all set to substantially expand its capacity with an aim to meet the growing demand for forklift trucks and other such warehouse equipment in India. "Our aim is to set the trend for modernization in Indian logistics sector. As part of this growing eco-system Jungheinrich now plans to position itself as an 'automation solution provider' by introducing new machines in the Indian market such as Automotive Guided vehicle (AGV)," says Manojit Acharya, India Head of Jungheinrich.
India's warehouses are still dominated by diesel spewing forklifts and old-technology warehouse equipment operating in an archaic labour intensive go-down culture. With its focus on automated solutions and all-electric forklift trucks and equipment, Jungheinrich aims to change that. This change to a more energy efficient and time saving mode of working is essential if India is to forge ahead with its ambitious modernization and industrial model.
"The big thrust the present Government is giving the logistics sector has inspired us to not only expand our present capacity but also to have a long term focus with an aim to increase our overall footprint," says Manojit Acharya.
To further cement the leadership position in India, the company is planning to make considerable and meaningful additions to its product line.  Christian Erlach, Member of Management Board of Jungheinrich AG, said, "Besides expanding our capacity, we are also bringing in a new line of products for the Indian market and in the process substantially increase our present market share. All the products that Jungheinrichbrings to the Indian shore come from our state-of-the-art factories in Europe and China".
The city of Bhiwandi in Maharashtra continues to be the base as Jungheinrich expand its presence in the country. The city being a hub in logistic warehousing along with a strong customer base and a nearby sea port offers a perfect place for overall smooth functioning of its entire operations.