Jijaji Chhat Parr Koii Hai cast unveil horror and spooky instances from their real life
While, we all may have faced such situations in our lives, let's hear it from the cast of Sony SAB's Jijaji Chhat Parr Koii Hai as a new mystery unfolds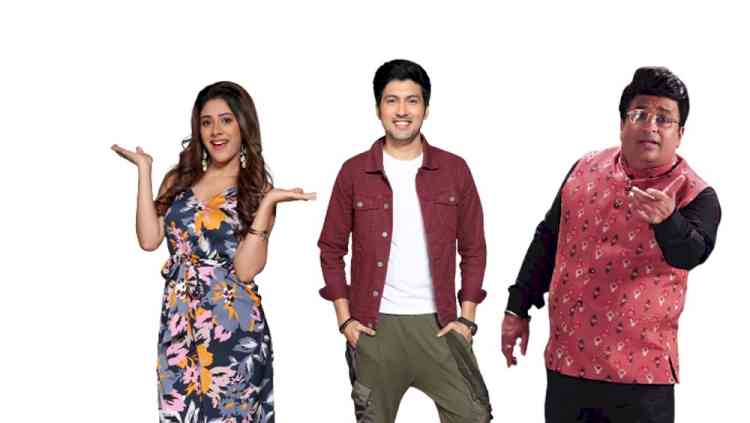 Hiba Nawab as CP, Shubhashish Jha as Jijaji and Anup Upadhyay as Jaldiram.
Mysterious and spooky stories are something we grow up listening to. It won't be entirely incorrect to say that horror and mystery have successfully entertained us for long. Sometimes, it is all about timing – a mysterious situation currently usually turns out to become a comic element of everyday lives and stories.   While, we all may have faced such situations in our lives, let's hear it from the cast of Sony SAB's Jijaji Chhat Parr Koii Hai as a new mystery unfolds.
Recalling some mysterious moments from their real life, the cast of Jijaji Chhat Parr Koii Hai reveal some spooky moments they have encountered.
Hiba Nawab recalls her 3 AM scare and shared, "Whenever there is a matter of ghosts or something mysterious, I prefer staying out of it. I am very timid and faint-hearted talking about ghosts and spooky things, maybe that is why I am enjoying playing the double role of Saaya in Jijaji Chhat Parr Koii Hai as I am try to get over my fear. I remember an incident when I was all alone at home. I lost track of time and kept binging on a show till 3 o'clock. I was getting scared to even turn off the lights and kept getting a feeling that there's someone in the hallway. I am sure that was my fear making scenarios but I never could muster the courage to turn the lights off and slept with them turned on the entire night."
Reminiscing his teenage days, Anup Upadhyay aka Jaldiram Sharma revealed, "It is a story when I was in 12th standard, me and my 3 friends planned on staying up and studying all night at our friend's place, who used to live in a big haveli with several verandahs and a temple in the middle. It was a cold night and all of us went to the room attached to the verandah for studying, unaware that it has no lock. Since we didn't want to leave the cozy bed and the blanket, we just thought of studying there itself. Our friend's father had already warned us to not react to any sound we might hear in the middle of the night and just study and sleep instead. After 15-20 minutes of our studying in the lantern, I started hearing faint ghunghroo on the haveli's staircase. We could hear the sound coming closer to our room and that was the moment we really got scared. After a while, we realised the noise stopped at our door. After a few moments, we heard the voice receding to the stairs and diminishing. I genuinely don't know whether it was a ghost or just a devotee who had come to visit the temple but this incident in my life really shook me. I still recall it as a fun night but the mystery of that ghunghroo remains unsolved till date."
Shubhashish Jha, recalling his college days said, "I am a computer engineer and during my college days there were rumours about a mysterious entity roaming around the halls of our hostel. That was one moment of life where I was so scared to even get out of my room to go to the water cooler and get water for me. Due to these rumours, I even had to pass through a phase of having scary nightmares for straight two weeks. I even tried various totkas suggested by my family members, for instance keeping Hanuman Chalisa under my pillow and I literally tried all of them but couldn't get rid of those dreams. Eventually, after some days I stopped having those nightmares but as soon as holidays started, most of the students left for their home-town and only 5 to 6 people stayed back in the hostel. It was a rainy night and my friends insisted me to live with him outside the campus but I never took it seriously and wanted to stay in hostel as I used to feel connected to my room. The first night after everyone left, I went to fetch water from one common water cooler far from my room. Everything around me was so spooky, heavy raining and echo of voices, I started remembering those rumours and I was afraid of going there. I genuinely wanted someone to bring water for me but I was all alone and the feeling was spooky cold. I was so scared that the very next day of the incident, I went to my friend's flat and stayed with him for a couple of days."