Jaiveer's novel The Double Force And The Fallen Kingdom released by Kavita Das, Vivek Atray and Khushwant Singh
The author is a 12-year-old student of St John's School, Chandigarh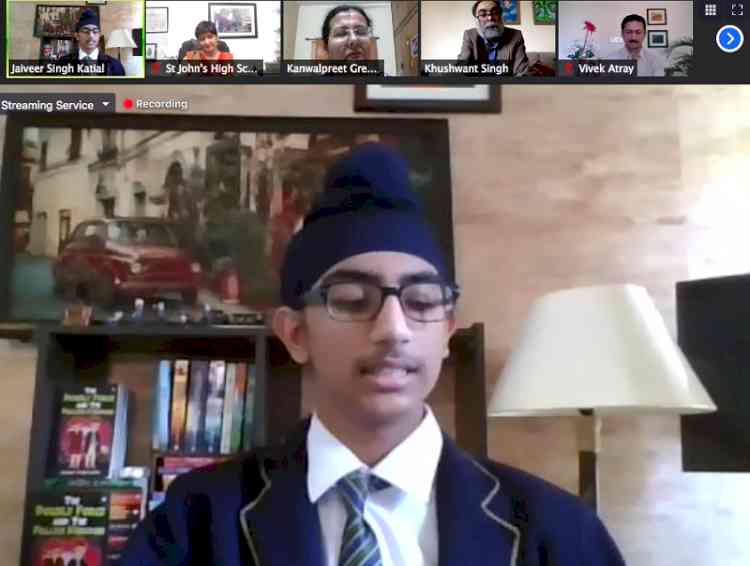 Chandigarh: 12-year-old Jaiveer Singh Katial, a student of St John's School, Sector 26, has achieved a milestone by writing a 238-page novel. It took him three years to complete the novel and eventually win acclaim for that adventure novel. The book was released by Ms Kavita Das, Principal St John's School, in association with Chandigarh Literary Society and St John's Old Boys' Association (SJOBA). Hard enough for any writer to do, right?
 
The Double Force and The Fallen Kingdom, published by notionpress.com, illustrated by Supreet Kaur, is a story about John and Jeremy, who are twin brothers. They are always looking for an adventure but just can't find one. However, this spring, a robber starts causing chaos in their peaceful city. Furthermore, things start getting tense when a murder occurs, revealing to the police some unearthly evidences. This was the perfect chance for the twins to prove themselves. As they embark on their expedition, they accidentally enter a parallel world inhabited by a powerful sub-group of humans, formed a long time ago. The twins further discover that sometimes humans like themselves also get lucky and are born with genes similar to this species and can team with them. Unknown to them, they have been spotted and picked by these creatures to side with the good and fight the greatest threat that had ever occurred in a millennium. The brothers go through a series of adventures and misadventures on their mission to fight the malevolent powers.
 
Motivational speaker, former IAS officer and an illustrious author himself, Mr Vivek Attray was very supportive of the young authors' feat. "I am reminded of Hardy Boys' series and I feel his book has the potential to be turned into a web-series", said Khushwant Singh, renowned author and Punjab State Information Commissioner.
 
Acclaimed Author Neel Kamal Puri expressed her appreciation for the young authors' imagination and expression, much needed for weaving an interesting tale full of magic realism.
Mr Sandeep Sahni and Mr Naresh Nanda, SJOBA representatives, wished Jaiveer well for his accomplishment.
 
Jaiveer used a weekly regimen to write his book. Every weekend, he would find about 60 to 90 minutes to write. After each chapter, he'd share it with close friends and family, and they would give comments and suggestions as he went along. Soon 10,000 words became 20,000, and eventually, he compiled over 40,000 words for his first novel.
"I started to write the story as innumerable ideas kept on coming in my mind all the time," said Jaiveer. "The Double Force and The Fallen Kingdom will appeal to those who love stories of adventure, teamwork, and perseverance."
 
"It's amazing to see such talented students getting nurtured in a proper environment. Jaiveer has proved that no dream is small or big, if one dedicates himself or herself to achieve. He will definitely take the best out of this experience to pen down his bright future," said Kavita Das.
 
The event was successfully moderated by Dr Kanwalpreet, honoured by Sahitya Akademi.