Ivy World School witnessed colors of Kinderbration  
Celebrate spirit of learning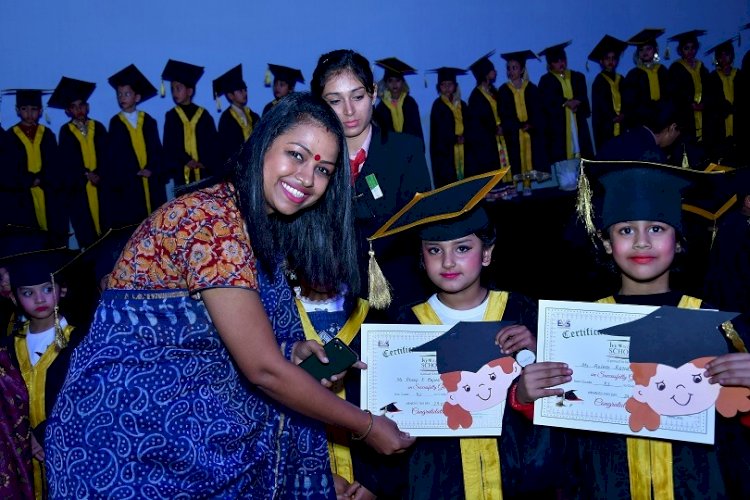 Jalandhar: Certain ceremonies are celebrated with a difference and one such ceremony is the Kindergarten Graduation where a tiny tot completes his tenure in the Kindergarten School and prepares himself or herself to step into a completely new world of Primary School.
Ivy World School, Jalandhar under the aegis of I- League witnessed colors of Kinderbration  celebrating the spirit of learning. The theme was to acknowledge a child's ambition  and dreams while learning
The ceremony began with an invocation  followed by a welcome dance. Little wonders  beautifully showcased and unfolded all the horizons of thematic teaching. Young learners left everybody spellbound with their western, classical and comical dance performances and expressed their thoughts on gender equality through a skit.
True to the sportsmanship, kids lively demonstrated teamwork, hardwork and  commitment with all forms of sports. The young choir  comprising of all graduation learners performed live before the audience rendering eternal compositions " Graduation , Graduation, It's a big big day." These budding singers held the audience in rapt attention. The cultural extravaganza was interspersed with the most important event of the day.The Graduation of K2 students to the Primary classes. They walked the ramp adorned in traditional convocation gowns and caps. Their smiling faces were welcomed by rapturous applause from the audience as they received scrolls of merit on the stage. It was indeed heartwarming to see teary eyed parents as they watched their little angels grow into butterflies ready to flit away into the sky yonder.
Mrs. S. Chauhan, Principal, Ivy World School appreciated the endeavours put up  by the little children and educators in making the event a grand success. The President of Vasal education Society, Shiri K K Vasal, the Chairman Mr. Sanjeev Kumar Vasal, the Director Mrs. Ena Vasal, and the CEO Mr. Raghav Vasal emphasized on the need of experiential learning to inculcate quality learning in daily curriculum to help children to be at par with the changing scenario.
The event culminated with the national anthem.