IVF clinic (Test Tube baby clinic) inaugurated at Mohandai Oswal Hospital
The IVF is a complex procedure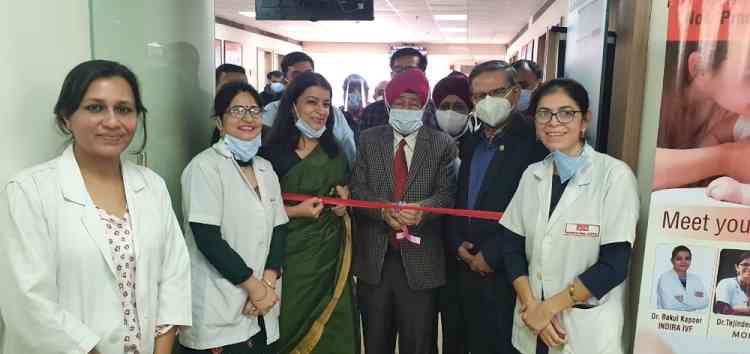 Ludhiana: An IVF clinic (Test Tube baby clinic) was inaugurated today at Mohandai Oswal Hospital  in technical collaboration with Indira IVF . Speaking on the occasion, the Guest of Honour, Dr Iqbal Singh Ahuja said that this clinic will go a long way in helping childless couples achieve parenthood. He further said that In vitro fertilization, popularly referred to as IVF, has captured the attention of the public since its sensational introduction in 1978. Today assisted reproductive technology is available throughout most of the civilized world, and the practice is largely different from that used during the early days. He lauded the management of MOH for this new development. 

Dr Bakul Kapoor, centre head at Indira IVF told that In vitro fertilisation (IVF) is a process of fertilisation where an egg is combined with sperm outside the body, in vitro ("in glass"). The process involves monitoring and stimulating a woman's ovulatory process, removing an ovum or ova (egg or eggs) from the woman's ovaries and letting sperm fertilise them in a liquid in a laboratory. After the fertilised egg (zygote) undergoes embryo culture for 2–6 days, it is implanted in the same or another woman's uterus, with the intention of establishing a successful pregnancy. 

Dr Sanjeev K Uppal, CEO, Mohandai Oswal Hospital said that the IVF is a complex procedure and is performed at few centres under well trained doctors and technical team . It involves a series of tests and procedures. Refinements in laboratory technology and clinical practice have allowed IVF to evolve into a medical procedure that is efficient, safe, readily accessible, and relatively affordable he added. Mr Yogendra Awadhiya , head operations thanked the experts and guests and said that MOH will make sure that this clinic is successful and serve the childless . 

Mr Jawahar Lal Oswal , the Chairman of MOH congratulated the IVF team and said that Mohandai Oswal Hospital keep on upgrading and  providing most modern and affordable medical care .  The team of Gynaecologists at MOH namely dr Arti Tuli Gupta, Dr Tejinder Kaur and Dr Shirin Gupta will be looking after this clinic in technical collaboration with Dr Bakul Kapoor. This will involve the total care starting from counselling, IVF procedure and the delivery thereafter. The successful outcome depends on multiple factors and is variable from patient to patient.