Invest with caution discussed at webinar by UIAMS
It was attended by over 200 participants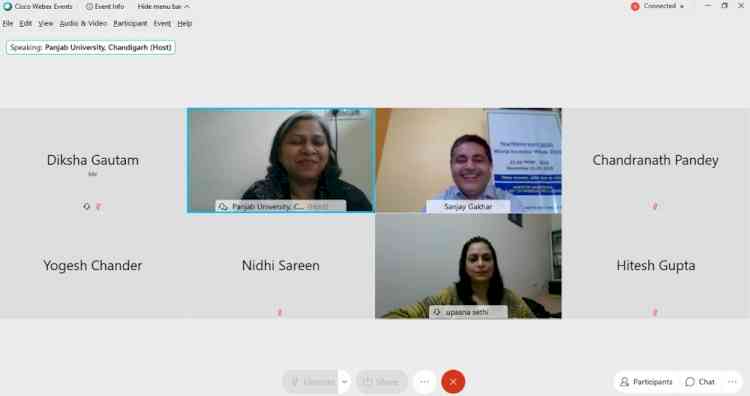 Chandigarh: University Institute of Applied Management Sciences, Panjab University organized a webinar on "Commodity Derivative and Investor Education". Mr. Sanjay Ghakar, Vice President, Multi-Commodity Exchange of India Ltd., New Delhi and Mr. Yogesh Chander, Manager, Securities and Exchange Board of India were the key speakers and was attended by over 200 participants.

Mr. Sanjay Ghakar talked about commodity market intertwined with how commodities are different from other investment avenues. When commodity prices are talked about, Forex Rates, Geo political situations, consumption patterns are some of parameters that are required to be factored in. In addition, he also deliberated on what is commodity price risk and how to alleviate it by using Spot market, Forward market, clearing corporation and hedging intertwined with a lot of  tips on portfolio diversification (how involving commodities can reduce risk). He ended up saying that financial markets require way more penetration as of  now, they are less than even 5% and India being one of largest producer and consumer of commodities because of sheer size of its population wants more innovative financial instruments so as to hedge the price risk in Commodities market. For this, SEBI has already started trading in options also which is a welcome step.

Mr. Yogesh Chander from SEBI divulged a lot information  and started off  with the key players in Securities market like Major Exchanges, Clearing Corporations and Depositories and how Securities market has evolved in all these years. He also explained the exemplary role of SEBI as a regulator of Securities market established itself and  is protecting interest of investors and developing securities market for smooth functioning in tandem he also made students aware of multitude of   products available in securities market like equity, debt. He also emphasized on how mutual funds are instrumental in diversification, benefits of SIP, various schemes like ELSS (Equity linked Saving Schemes) for tax exemption and power of compounding (which Einstein called as 8th wonder of World). He also cautioned students about various Ponzi Schemes through an example and CIS (Collective Investment Scheme) regulation in SEBI Act to deal with them. At the end, he walked participants through the various awareness programs SEBI is orchestrating in various parts of India through these webinars and also grievances redress platform SCORES.

The participants were given a whole new concept which helped them put in perspective a lot of information regarding commodity markets and why they are of paramount importance in the current scenario. The seminar intrigued the students and they ended up asking a lot of questions which were successfully  taken up by the eminent guests and concomitantly were answered too which made this event an eye-opener for the students.

Prof. Upasana Joshi Sethi, Director,UIAMS welcome the eminent speakers and Dr. Monika Aggarwal, Coordinator of webinar proposed the vote of thanks. Efforts of Team ECRC including Mr. Hitesh Gupta, Barkha, Nitin, Diksha, Shivam, Sonaliwho were the frontrunners in this event were highly appreciated.