Interventional pain clinic inaugurated at Mohandai Oswal Hospital
The pain clinic will work on all days and patients can come on any day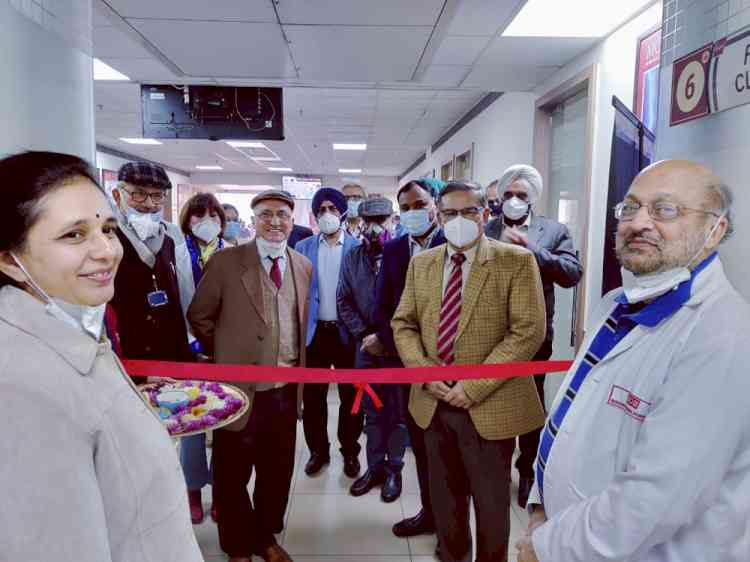 Ludhiana: An interventional pain clinic was inaugurated today at Mohandai Oswal Hospital, Ludhiana. Chief Guest on this occasion, Dr T. K. Kaul, President National Research Society of Anaesthesiology Clinical Pharmacology and former head of department of anaesthesiology at DMC. Speaking on the occasion he said that every human being has a right of dignity and pain of any kind should be effectively treated to let the person live with dignity and die with dignity.  Even if the condition is terminal, the person should die without pain, he added. 
Dr Geeta Mittal, the pain specialist said that the pain is a general term that describes uncomfortable sensations in the body. It stems from activation of the nervous system. Pain can range from annoying to debilitating, and it can feel like a sharp stabbing or a dull ache. Although inconvenient and uncomfortable, pain can be a good thing. It lets us know when something is wrong and gives us hints about causes. Some pain is easy to diagnose and can be managed at home. But some types of pain signal serious conditions she added….
Dr B K Mohindra, HOD anaesthesia at MOH advised that you should seek medical attention for your pain if it is the result of an injury or accident, especially when there is a risk of bleeding, infection, or broken bones, or when the injury is to the head . If an internal pain is acute and sharp: this type of pain may signify a serious problem, such as a ruptured appendix.
Dr Sanjeev K. Uppal, CEO of MOH cautioned the general public against self-medication in case of pain. If you seek medical attention for your pain, your doctor will first do a physical examination and ask you some questions. Be prepared to discuss the pain very specifically he said. He further added that all facilities for interventional nerve blocks under imaging techniques are available at MOH.
  
Mr Yogendra Awadhiya , Head Operations told that the pain clinic will work on all days and patients can come on any day. He further added that the MOH has a patient friendly approach and it follows its moto of sure healthy life for all. Shri Jawahar Lal Oswal , Chairman conveyed his blessings to the team  . He further added that it is the resolve of the management to provide world class medical facilities to all the patients at an affordable rate at MOH. (January 01, 2021)