International World Bamboo Day Celebration 2021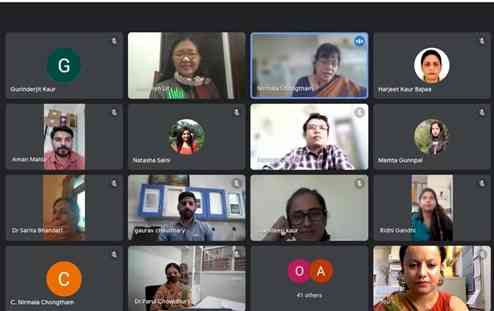 Chandigarh, September 20, 2021: DST-Centre for Policy Research (CPR) at Punjab University, Chandigarh in collaboration with World Bamboo Organization, USA successfully organized a virtual webinar for the celebration of International World Bamboo Day 2021 on September 18 (Saturday). The theme of the webinar was Scope of Skill Development and Entrepreneurship in Bamboo Sector.
Eminent speakers from various national and international organizations shared their thoughts and approach towards proliferating bamboo for sustainable development and consumption in India. Susanne Lucas, the Executive Director, World Bamboo Organization (WBO), USA shared a special message on the bamboo and role of WBO to promote it worldwide.
The prominent experts and speakers for the event were Mr. Sanjeev Karpe, Founder, Director, Konkan, Bamboo and Cane Development Centre, Maharashtra, Dr. Merdelyn, Vice Chancellor, Research and Extension, University of Philippines, Dr. Ajit SIngh Naosekpam, Consultant, South East Asia, Bamcore, Chandigarh; Dr. Santosh Oinam, Scientific Officer, DST-CPR at PU; Dr. Natasha Saini, Assistant Professor, Abhilashi Group of Institutions, Mandi, H.P.; Dr. Harjit Kaur Bajwa, Assistant Professor, Chandigarh University, Mohali. The speakers showcased various technologies, applications and utility of Bamboo. They also deliberated upon the issues on policy perspective in India and emphasized that India can be a leader in the global market. They also deliberated that in coming future, if farmers in India will focus on growing bamboo and commercializing it worldwide, they can contribute to address the economic challenges being faced by Indian farmers. According to Prof. Nirmala Chongtham, the World Bamboo Ambassador from India and Coordinator of DST-CPR at PU, Chandigarh, an agreement has been signed between the WBO and Vietnam government on 18th September to hold the 4th World Bamboo Workshop in Vietnam in 2022.