International Webinar on the topic- Catch the Big Idea
Speakers shared with the young students that sometimes even brilliant ideas fail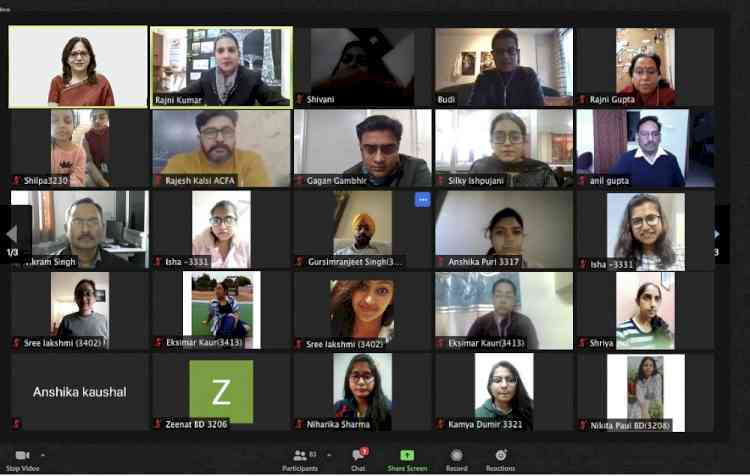 Jalandhar: The Department of Design of Apeejay College of Fine Arts, Jalandhar organized International Webinar on the topic- Catch the Big Idea. The Resource Person of the day was Mr. Budi Loonen, Senior Art Director at No Tomato Advertising firm, Breda.
Addressing the students, Mr. Budi Loonen put forth that in order to create an idea; the first step is to explore the different sectors and possibilities in that direction. The students were made aware about how to define an idea and then how to convert that idea/ imagination into actual terms. He advocated the team work and brain storming.
He also shared with the young students that sometimes even brilliant ideas fail when we put them into practice but they should not feel disappointed with this because Design is such a stream where every day we need to come up with new ideas considering the latest trends and demands of the clients.
Ms. Rajni Kumar, Department of Design was the moderator during this International Webinar. She put forth the Questions on the behalf of students and also explained the assignment which the students will be taking up to design a product which will contribute to stop spreading COVID 19. The students will submit their presentations and the winners will be announced for the same after discussion.
Principal Dr. Neerja Dhingra appreciated the spirit of Students and she warmly welcomed the Resource Person. She put forth that it is important for students to have an access to International experts as it contributes to enhance their perception in their given field. Not only they can do the comparative study of the two cultures and the trends across the world but through this collaboration of minds, they can come up with brilliant ideas which can enhance the society around as well.
She appreciated the efforts of Ms. Rajni Gupta and Ms. Rajni Kumar for taking this initiative and successfully organizing this Webinar.