International webinar on protecting the front line: prioritizing police wellness
The event organized by the Centre for Police Administration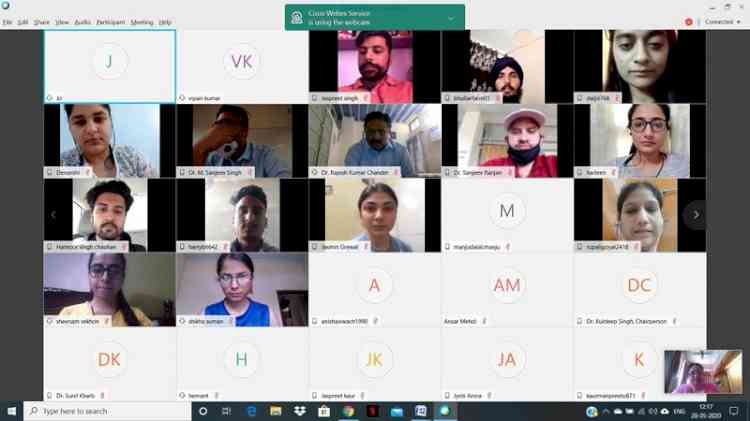 Chandigarh: The Centre for Police Administration organized a One Day International Webinar titled "Protecting the Front line: Prioritizing Police Wellness" today.
 
 The session began with the welcome address of Dr.Kuldeep Singh, Chairperson, Centre for Police Administration followed by an introduction by Dr.Vibha Sharma, HOD, Department of Police Administration/Public Administration, Mehr Chand Mahajan College for Women.
 
The resource person,  Dr. Divya Sharma, Professor, Division of Justice and Law Administration, Western Connecticut State University, United States (US) emphasized the significance of police wellness in view of acute physical, mental and emotional stressed experienced by them both on day to day basis as well as in several trying situations such as the ongoing pandemic crisis of COVID 19. She highlighted that the aspect of police wellness (i.e. physical, mental and emotional) has been relegated to a greater extent. This is so because larger masses carry a negative perception about police and police personnel. Consequently, police personnel experienced social alienization where there has been lack of interest as well as lack of sensitivity towards their physical, mental and emotional wellness. She stressed on addressing this problem in a more tangible manner rather than paying a lip service. She put forth police wellness could be achieved both through institutional and social measures.
 
 The session was followed by an active interaction between the resource person and the participants. A large number of participants such as Mr. Hemant Kumar (DIG) BSF, Mr. Pawan Basatia (DCP), Delhi Police, Dr.Rajesh Chander, Dr. Sanjeev Ranjan, Faculty members, Research scholars and studentsfrom various institutions attended the International Webinar. Dr. Kuldeep Singh, Chairperson, stated that the Centre shall continue to conduct such Lecture/events in future on different theme related to Role of Police.