International webinar on attempt to understand why did 1947 carnage occur despite Mahatma Gandhi's campaign for non- violence
Rajmohan Gandhi, Grandson of Mahatma Gandhi delivers the talk for the webinar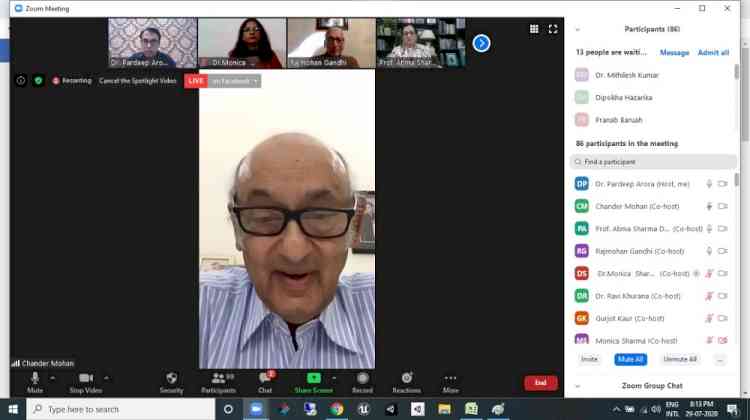 Jalandhar: Kanya Maha Vidyalaya organised an international webinar on "An attempt to understand why did the 1947 carnage occur despite Mahatma Gandhi's campaign for Non- violence". The webinar was organised by the Department of  History under the aegis of Gandhian Studies Centre. The resource person for the webinar was Mr Rajmohan Gandhi, grandson of Mahatma Gandhi and C. Rajagopalacharai, last governor- general of India. More than 5000 participants from all across the world participated in this webinar through various digital platforms.             

A famous historian and a member of Rajya Sabha, Mr Gandhi served as a Professor at Centre for Policy Research, New Delhi and University of Illinois, USA. A prolific writer he has penned down a number of books and also won the prestigious Sahitya Akademi Award for his book Rajaji- A life. Dr.Gurjot Kaur, Head, Department of History started the proceedings by extending a general welcome to all. The webinar began with the Gayatri mantra, followed by the formal welcome by Principal Prof. Dr. Atima Sharma Dwivedi. During her welcoming address, she averred that the misrepresentation of history has led to the rise of hatred among races and nations. Appreciating the selection of the topic for the talk she said this give us a new perspective of human carnage of 1947 and help us take lessons & build a better society. This was followed by a presentation of Dr Monica Sharma, Director, Gandhian Studies Centre to present the contribution of KMV in spreading the Gandhian philosophy in the region, through the activities of the centre. President Arya Shiksha Mandal, Sh Chander Mohan ji, a noted journalist extended his welcome for Mr Rajmohan Gandhi. Having witness displacement in 1947 and belonging to a family involved in the family struggle, he too wanted to understand that why so much bloodshed happened in spite of Gandhiji's presence. Mr Rajmohan Gandhi explained in length about the political situations in Punjab in the early 20th century. He explained the situation leading to the Jallianwala Bagh Massacre and its repercussions. And later how this led to the violence in the late 40's. He also spoke about the equation between the revolutionaries and Gandhiji, his relation with Subhash Chandra Bose ji and why Gandhi chose Nehru over Sardar Patel as his heir. During the question answer sessions, Mr Gandhi answered the queries from the burdens of carrying the Gandhi legacy to why the Gandhi charm faded in the 1940s leading to the partition. 

Principal Prof Dr Atima Sharma Dwivedi extended a formal Vote of Thanks. Many luminaries attended this webinar namely Mr Dhruv Mittal, Treasurer, KMV Managing Committee, Mrs Sushila Bhagat and Mr S.P. Gupta.