International Webinar conducted by PU DLIS
Speakers said library professionals must convert unforeseen challenges into opportunities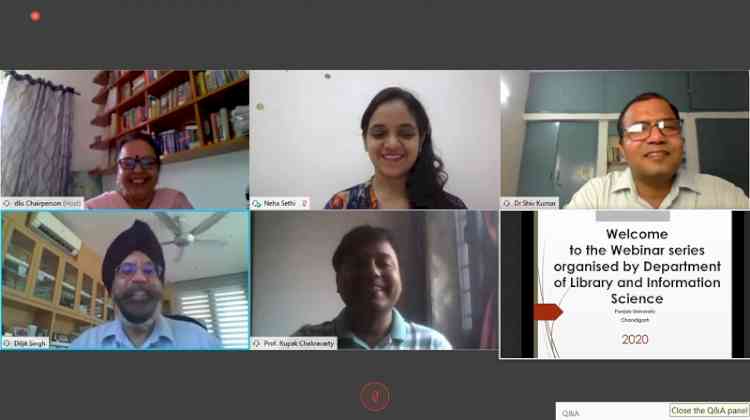 Chandigarh: The Department of Library and Information Science, Panjab University, Chandigarh, organised an international webinar today  in the series on the theme 'Information generation, dissemination and use during covid-19 lockdown' through cisco webex app.
Prof.Preeti Mahajan, chairperson , started the webinar with a welcome speech and introduced the theme of the webinar series.
Prof. Diljit Singh ,DLIS, University of Malaya, Kuala Lumpur, Malaysia delivered the talk on "Research, Publishing and Continuing Professional Development during the Covid-19 Lockdown".He talked about the challenges which the world is facing during the Covid-19 Pandemic.He pointed out that although the libraries are facing social, technical, economic, political and cultural changes, yet these changes also present wonderful opportunities to the library professionals to reflect upon themselves, to share knowledge for the betterment of profession and to serve their clients. Hence, they must update themselves continuously to overcome such challenges. He emphasized that the library professionals must convert the unforeseen challenges  into opportunities to serve the society in a better way.
Today's webinar was attended by about 500 including LIS academicians, Library professionals, LIS researchers and students of Library and Information Science from all over the country and abroad.
 
BRIEF 
Chandigarh: The Department of Evening Studies – Multi Disciplinary Research Centre, Panjab University, Chandigarh,  organized a students' competition on 'Applications of Calculus in Business and Economics'. Dr. Keerti Vardhan, Associate Professor of Mathematics, conceptualized and organized this event. Students sent their write-ups which were reviewed and seven (07) selected students were invited to make online presentations. Dr. Anil Kumar Parti and Professor Suman Makkar along with Dr. Keerti Vardhan, were the judges who selected three outstanding participants. Certificate of participation were presented to all the participants.  Aditi  Khanna ,M.A. IVth Semester was adjusted first. She was awarded Rs. 1000/- as a token amount. Ishanka Kamboj, B.A. IVth Semester stood second and Shalika Rani also of B.A. IVth Semester was adjusted 3rd. Both were given a token amount of Rs. 500/- each.