International lawyer Chris Parsons cycles 4500 km in 45 days to raise funds for widows in India
Working as Ambassador of the Loomba Foundation, a UN accredited global charity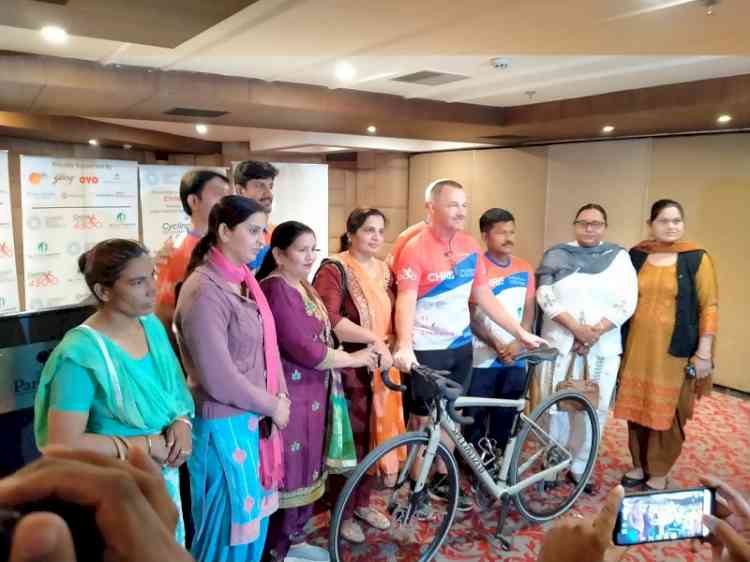 Ludhiana: Chris Parsons, Ambassador of The Loomba Foundation (TLF), a UN accredited global charity, has taken on a challenge of cycling 4,500 km in 45 days across the length of India to raise US $ 4,50,000 for widows and their children.
The cycling campaign kicked off from Kanyakumari in the South reached here on Friday late evening. On his arrival here, Chris Parsons told the media persons that the cyclying campaign would culminate at Srinagar, Jammu and Kashmir. He added that they have arrived here after covering several cities including Bangalore, Delhi, Varanasi and Hyderabad. "The Loomba Foundation aims to empower over 5,000 beneficiaries in India with this project, who will also be provided vocational training in tourism, hospitality, health, tailoring and food processing", he said.
Boarding on this venture, Chris Parsons said: "Unfortunately, many widows in India are abandoned when their husbands die. This is where The Loomba Foundation comes in. Through its empowerment programmes, the charity provides skill training and other support to help widows become self-sufficient so that they can support themselves and their families. The journey has not been easy with many challenges in the way, but I am going to try my best and hope to raise much-needed funds for a cause that is very close to my heart."
He revealed that in the past, over 2,200 widows had been empowered in Ludhiana and its adjoining areas, under joint partnership project of the state government and the Loomba Foundation.
Further, he told that according to the UN Women, there are 285 million widows around the world and over 500 million children who, through no fault of their own, have faced discrimination and destitution at a time when they are at their most vulnerable. The Loomba Foundation has made huge strides in supporting widows, but we have so much more work to do. We have already achieved 70 per cent of the target, he added.