International childhood cancer day observed at DMCH
Children suffering from cancer presented well-choreographed dance performances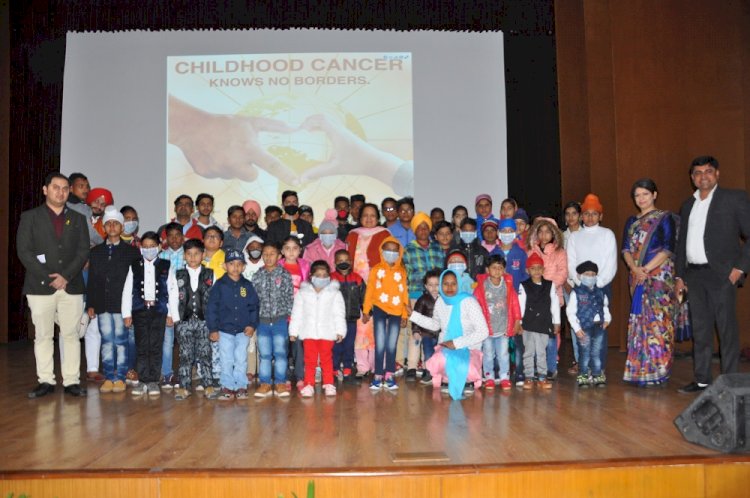 Ludhiana: Department of Pediatrics, DMCH observed International Childhood Cancer Day in Dumra Auditorium. The function was presided over by the chief guest- Prem Kumar Gupta (Secretary, DMCH Managing Society) along with Sunila Gupta. Medical Supdts. Dr Ashwani Chaudhary, Dr Sandeep Sharma, Dr Puneet Aulakh Pooni (Professor & Head of Pedaitrics) and other faculty members also attended the event.
Dr Shruti Kakkar (Assistant Professor, Pediatrics and In-charge, Pediatric Hematology Oncology, DMCH) extended warm welcome to all the cancer survivor children and their parents present on the occasion.
The children presently undergoing treatment for cancer were also invited to get inspired from those who have already fought this dreaded disease. In her address to the audience, Dr Shruti Kakkar said that Childhood Cancer is curable if detected early. The Managing Society of DMCH has always been supportive in providing quality treatment to cancer children at highly subsidized cost. Nearly 50 survivors participated in the programme and shared their experiences with all and advised everyone to seek early help if there are any
danger signs.
Mrs Rama Munjal, President of Arpita Cancer Society, was felicitated on the occasion for the contribution of her society in treating cancer affected children along with Dr Praveen C. Sobti, the founder of Pediatric Oncology Unit at DMCH.
During the programme, the children suffering from cancer presented well-choreographed dance performances, which enthralled the audience.
Many survivors also gave performances. The nurses and paramedical staff of Pediatrics Oncology ward were also facilitated and they were also given honour of awarding all the children with momentoes and certificates.