Interactive session on stress management
Focus on Fit India Movement and essay competition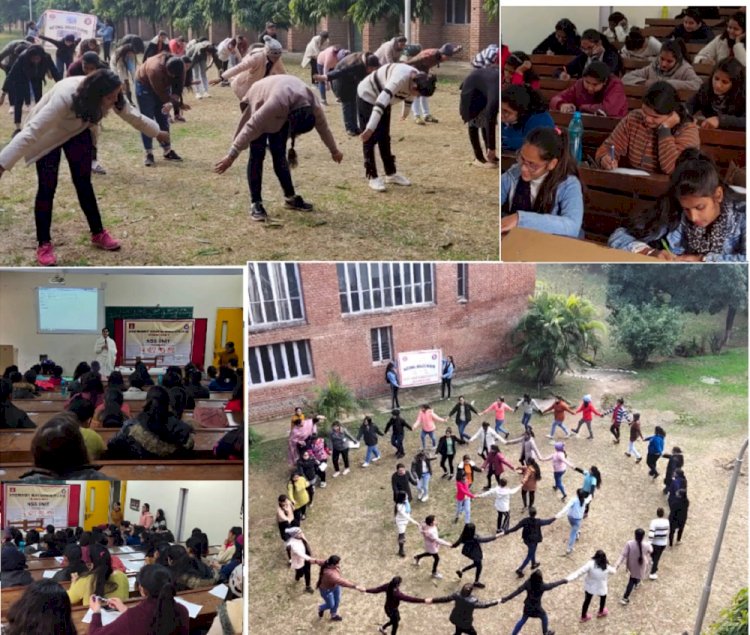 Chandigarh: With an aim to promote Fit India Movement and improvise mobility and body balance, the fourth day of seven day special NSS camp began with performing physical training exercises and enthusiastically playing different sports in the college ground at Government Home Science College, Chandigarh. Volunteers were informed of the various health benefits of different exercises and importance of performing sports in our day to day lives for the betterment of our health.
During the second half of the day, an interactive session was organized on 'Stress Management' for the NSS volunteers. Sister Preeti, Brahma Kumari, Rajyoga Bhawan, Sector-15, Chandigarh was invited as the Guest Speaker for the session. She reminded the volunteers of the innate goodness of the individual. She talked about the difference between body and soul and brought into limelight the three important faculties of soul i.e. Mind, Intellect and Impression. She discussed the real meaning of human being as spiritual beings on a human journey and beautifully described soul as consequent being of light. She further emphasized on the embodiments of seven virtues i.e. Knowledge, Purity, Peace, Love, Happiness, Bliss and Power. She also conducted activities for the volunteers to balance their minds and thoughts and encourage positive thoughts and ideas in our lives.Later on, an essay writing competition on the topic 'Ek Bharat Shreshth Bharat' emphasing on culture and traditions, cuisines, administrative and political working, festivities, language of paired state U.T. Dadra and Nagar Haveli influenced by Maharashtrian and Gujarati culture.
Principal of the college, Prof. Sudha Katyal, applauded the volunteers for their active participation in different sports and highlighted various health benefits and precautions while performing sports activities. She further motivated the volunteers to adopt various strategies for stress and anger management to lead a life of satisfaction and achieve true happiness.