Interaction with Punjabi poet Swarnjit Savi 
Savi started lecture with recitation of his poem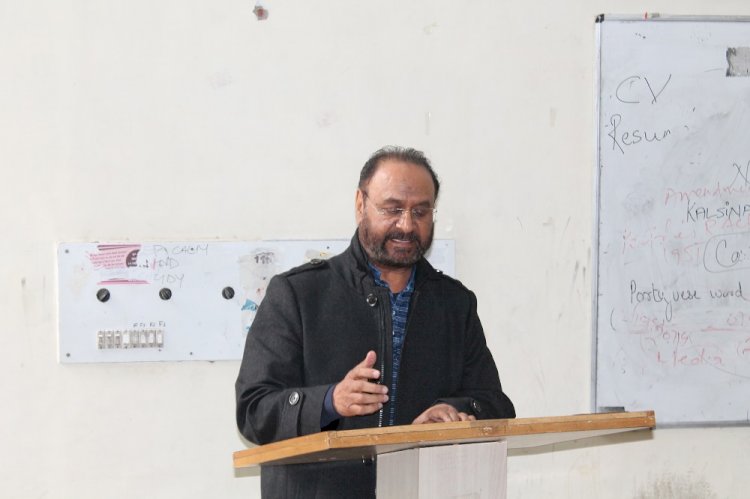 Famous Punjabi poet and painter Swarnjit Savi addressing the gathering.
Chandigarh: School of Punjabi Studies, Panjab University, Chandigarh organized an interaction with famous Punjabi poet and painter Swarnjit Savi. At the inauguration, the chairperson of the department Dr. Yog Raj gave a brief introduction of the life, poetry and paintings of Swarnjit Savi. Dr. Yograj pointed out that Savi's poems has established many new dimensions.  From his creations of books 'Dard Piade Hon Da', '...Te Main Ayea Bas', 'Dehi Naad' and 'Kameshwari', his poetry made him aware of various aspects.
Swarnjit Savi started his lecture with the recitation of his poem. He recalled the time when Punjab was hit by terrorism. Savi resisted this violence through 'poster' and poetry. Savi started writing poetry slowly.  Savi believes that the poet's honesty is in his confession. He too has his confession in his poetry. But, he believes that the truth of the body is the truth of the soul and this truth is prevalent in Indian heritage and culture. He has also experienced the death of his most beloved friends, which reflects from his poetry. In the poems of  '...Te Main Ayea Bas' he tried to trace the crisis of Punjab during the last 30 years, in which the youth of Punjab has passed through the menace of drugs and unemployment.  But, in such times, the search of true love remained our legacy.  Savi said that my poetry includes my own experiences, sorrow, pains and my dreams.
During this program, the students asked many questions, to which Swarnjit Savi answered very humbly and logically. On this occasion, Prof. Uma Sethi, Dr. Sarabjit Singh, Dr. Akwinder Kaur Tanvi, Dr. Pawan Kumar, Dr. Ashwani Kumar, research scholar and students M.A. Part I and II were present.  Finally, the head of the department, Dr. Yog Raj delivered vote of thanks to Savi and students, and said that the students of the department may gain a wide range of knowledge about literature through such literary programs.  Such programmes can also make students aware of the new trends in the field of literature.