Innovative, artistic, name badge necklace, promoting 12th century Cheriyal Art Form of Telangana
A Necklace of handmade fabric beads with dual-purpose Cheriyal Folk Craft Pendant cum Name Badge, a design innovation becomes the talk of attendees at FLO's first ever in person meeting held recently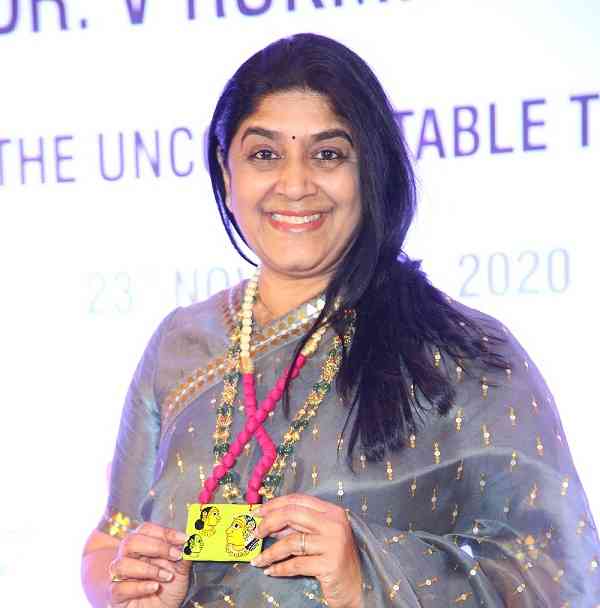 Usharani Manne seen wearing a novel necklace with a dual purpose cheriyal craft pendant cum name badge.
Hyderabad: Necklace especially made up of handmade beads with Cheriyal Telangana Folk Art Pendant Cum Name Badge worn by Usharani Manne, Chairperson of FICCI FLO Hyderabad at one of the Webinars was centre of attraction recently. Usharani also showcased it to the media recently in presence of Nandita Das, explaining the project then have taken up.   It was the most appropriate craft jewellery worn for the occasion. And everybody's attention was on it
 
The novel necklace with pendant cum name badge caught the attention of one of the speakers, Siva Devireddy, the techie-turned-entrepreneur behind GoCoop, an online marketplace for over 300 handloom cooperatives across 10 states.
 
As everybody started enquiring about it, Usharani, who was wearing it was too pleased about the necklace which she got it made especially for a purpose. I am pleased so much as everybody is liking this dual-purpose fashion accessory. And she gladly explained its significance. And she didn't wear it just like any other ornament. The Craft lover to the core, Usharani, is an ardent admirer of 400 years age-old, dying Cheriyal art form. She has a penchant for painting and handcrafted Jewellery. 
 
She knew what she wanted to do. When she became FLO Hyderabad Chairperson she got four 100 hundred of such necklaces made to be given out to the FLO Committee Members. So accordingly I got them in December last year itself. 
 
The Cheriyal Craft Pendant cum Name badge was made by Mr. Sai Kiran, Dhanalakota of Cheriyal. The handmade fabric beads of the necklace were done in Mumbai. Both put together it became a dual-purpose fashion accessory, necklace as well as a pedant and when it is turned back a name badge. It cost Rs 1000/- each unit to get the final product made.  
 
By doing so she wanted to achieve a long-cherished dream to support the vanishing crafts and Cheriyal Craft was dear to her heart. While achieving that objective, she aimed to present each Committee Member and speakers at the FLO functions/sessions, the priceless art form which is the pride of the state Telangana. She couldn't present the same to their Committee Members as FLO shifted to Virtual meetings. 
 
Only couple of days back, FLO had its first ever in person meeting and hosted Nandita Das. On that day she presented them FLO Committee Members.  Nandita Das who was present in the press conference appreciated FLO's efforts and support to the Cherial Art.
 
When recipients wear it, they do so with a lot of pride as this is not just an accessory, but a piece of pure art. Cheriyal artists have adapted the art form to make many art pieces like the one being talked about here. 
 
Cheriyal scroll painting is one of the earliest forms of audiovisual entertainment and these paintings are prepared by only Nakashi caste people in Telangana state. Hundreds of year ago, the storytelling communities used to travel through the villages of Telangana, singing and narrating stories using the scroll as their visual aid. Their work is mainly focused on community-specific storyline. Cheriyal paintings are a unique pictorial presentation of the numerous tales
 
Wearing this would give our Committee Members and guests will be an immense as it serves the purpose, i.e promoting the 12th Century Art Form of Telangana and supporting the artisans and others contributing to its revival, Usharani said. For Cheriyal Artisans, it gives a platform like FLO to showcase their flair, art and craftsmanship, Usharani adds
 
Lastly, it serves as a name badge as well to write their name. It's an ornament-cum-craft name badge. It is a perfect blend of Art, Glamour with utility value, explains Usharani.
 
Name badges allow one another address by name in the conferences or gatherings. It makes communication more open because of its design element more so when it is associated with a 400 years old art form. And the art also gets promotion and being talked about.  It serves many purposes, Usharani shares.
Organisations like Tedx, many event management companies get creative with name badging. At some eventw name badges were also small notepads that could be used during the day. Some event manager made simple scrabble letters to create name badge necklaces for guests. We have also seen caricature name badges. But, this one is unique.  It remains with the recipient as a good souvenir, style accessory, art piece and satisfaction of having worn an art piece which has many hundred years of history and at the same time satisfaction of promoting it, explains Usharani.
The stylish but subtle look of this necklace makes it a versatile addition to any woman's accessories collections.
 
This delightful set of jewellery is an elegant way to complete any wardrobe. The stylish design is a fun complement to both casual and formal wear. The handmade beads and the construction of the necklace set ensure that each piece is unique.
 
Usharani and her team at FLO is also extending the much sought after support to the Cheriyal Craft. It pledged branding, product development and market linkage support to the Cheriyal Artisans through an ambitious initiative 'Tirumani'. Towards this end as well as part of Tirumani, FLO also developed a logo, brochure, catalogue, website and social media campaign for the Tirumani initiative and unveiled it. 
 
Besides this, FLO has also adopted Cheriyal Village as part of Adopt a Village, a national initiative, says Usharani.