Innocent Hearts students performed excellent in university exams
Group Director Dr. Shailesh Tripathi congratulated the students and faculty members for this academic achievement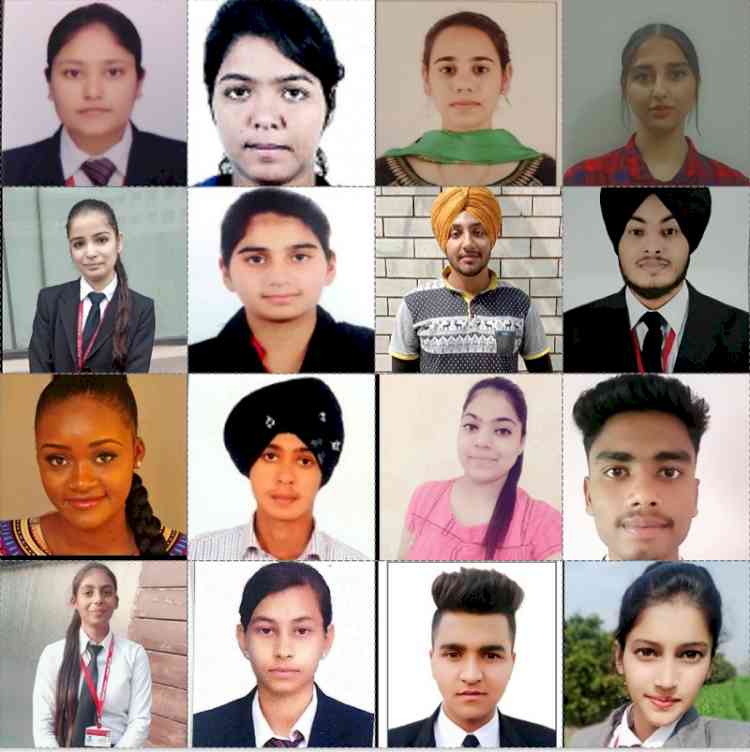 Jalandhar: Students of Innocent Hearts brought laurels to the campus with their outstanding performance in university exams nov-2020. All this became possible with the quality education provided by the faculty members and constant hard work of students.
MBA-3rd Semester students Manisha, Manpreet, shivani and simrandeep secured 9.5, 9.4, 9.1 and 9.03 SGPA respectively.
Bcom 5th Sem students Sakshi secured 9.5 sgpa and Kirandeep got 9.04 SGPA.
Harshpreet from Bcom 3RD Semester secured 9.1 SGPA and Kirandeep and Ikwinder secured 8.96 SGPA.
Simarjot Kaur and Tarnveer Nijjar from BBA-5TH Sem got 9.04 SGPA.
Inderjit, Sakshi, Rozal and Vishakha Rani of BBA- 3rd Semester got 9.04 SGPA. Harmanpreet and Sumandeep kaur secured 8.81 and 8.56 SGPA respectively.
MLS-5TH Semester students Manisha secured 8.81 SGPA, Garima and Muskan secured 8.62 SGPA.
MLS-3RD Semester students Deepika and Jyoti secured 9.19, Divine, Arshdeep and Rajdeep kaur secured 9.0 SGPA, Harpreet Kaur secured 8.81 SGPA. 
BHMCT-5TH Semester students Bhavneet Kaur secured 9.62, Harpinder Kuar Secured 9.14, Meenu and Amandeep secured 9.05 SGPA, Harpreet secured 9.0 SGPA, and Manpreet Kaur secured 8.62 SGPA.
Gursewak from BHMCT 3rd sem got 9.62 SGPA, Renu secured 8.95 and Ritesh secured 8.62 SGPA.
BTTM-5th semester students Simarnjeet singh secured 9.14 SGPA, Karan secured 8.64 and Manroop Kaur got 8.59 SGPA.
BTTM -3rd semester students Deepak secured 9.26 SGPA and Preeti secured 8.07 SGPA.
Simpy from MCA-5TH   Semester secured 8.33 SGPA.
BCA 5th Semester students Gaganpreet got 9.46 SGPA, Kamaljit Kaur  secured 9.63, Mansi got 9.25 SGPA, Mattry and Kirandeep secured 8.88 and 8.71 SGPA respectively.
BCA 3rd Semester students Narayan and Gurjit secured 8.87 and Megha secured 8.61 SGPA.
Vipasha Thakur of B.Sc. (Agri)5th Semester secured 9.0 SGPA, Sunali secured 8.8, Topaja Parasar got 8.70, Akansha Raj and Rakesh Kumar secured 8.52 SGPA. 
B.Sc (Agri) 3rd Semester Students Khusboo secured 9.30 SGPA, Ansh Sharma secured 9.04, Vicky got 8.87 SGPA, Sachin Kumar and Dharmendra Secured 8.7, Sourav Nirala secured 8.61 and Manish Kumar secured 8.57 SGPA.
Group Director Dr. Shailesh Tripathi congratulated the students and faculty members for this academic achievement. He stated that efforts of faculty members for providing online education to the students during lockdown are applaudable. We will continue to provide quality education in upcoming years as well.