Innocent Hearts College of Education organised webinar on shaping lives through yoga practice
Principal Dr. Arjinder Singh thanked the resource persons for practically demonstrating yoga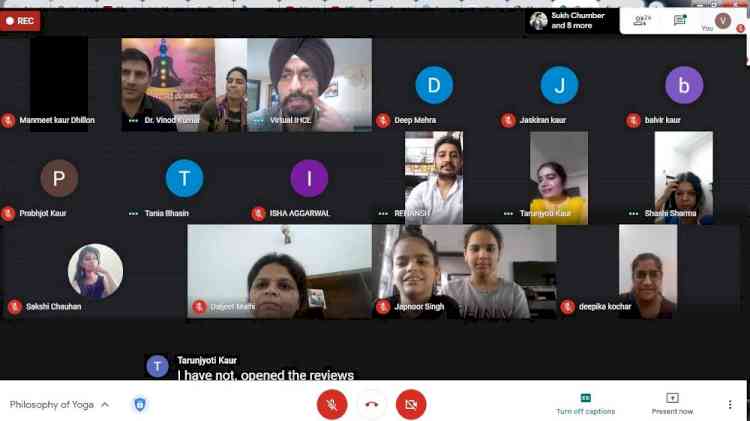 Jalandhar:  Innocent Hearts College of Education, Jalandhar organised a webinar on 'Shaping lives through Yoga Practice' with the sub- theme of 'Philosophy of Yoga and its role in Well-being' on October 15, 2020. The aim of this webinar was to impart knowledge about understanding the self and how good mental and physical health can be maintained by practicing yoga daily which is very much required during this period of Covid-19.

The Resource persons were Yoga experts - Dr. Vinod Kumar Paul, President of Yog-Path Sansthan and Ms. Anudeep, Vice -President of Yog-Path Sansthan. The faculty members and student-teachers of Innocent Hearts College of Education, Jalandhar; OPM Institute of Education, Kapurthala; Sacred Heart College of Education, Barnala; Sant Baba Bhag Singh University, Padhiana; Dips College of Education, Kapurthala; Sri Guru Angad Dev College of Education, Khadoor Sahib participated in this event.

The webinar started with an interactive session in which the benefits of performing yoga asanas were briefed and its implications on possessing a sound mind and a healthy body were discussed by the resource person Dr. Vinod Kumar Paul. Emphasis was laid by him on developing right eating habits, having a balanced diet, maintaining sleeping hours and also practicing Yoga daily. The quotation of B.K.S.Iyengar was also highlighted - "Yoga is a light, which once lit, will never dim. The better your practice, the brighter the flame."  

Demonstrations of various asanas were given by the Yoga experts in the Yoga -Asana session in which all the participants followed them step by step and performed the poses of Yoga from easy asanas to difficult ones. All the participants felt lively and relaxed after doing breathing-exercises and meditation during the stress- relieving session. Later the participants clarified their doubts in the question-answer session to which the resource persons responded quite well.

Principal Dr. Arjinder Singh thanked the resource persons for practically demonstrating yoga and in turn creating a cheerful environment and satisfying the participants. The student-teachers were instructed to write their reflections related to this webinar and practice yoga asanas daily. Feedback regarding the experience of this webinar was taken from the participants. E-certificates were issued to all the participants.