Industries Minister Sunder Sham Arora to hold weekly meetings with industrialists to solve their problems
Cabinet Minister thanked Railways, Central Government for resuming trains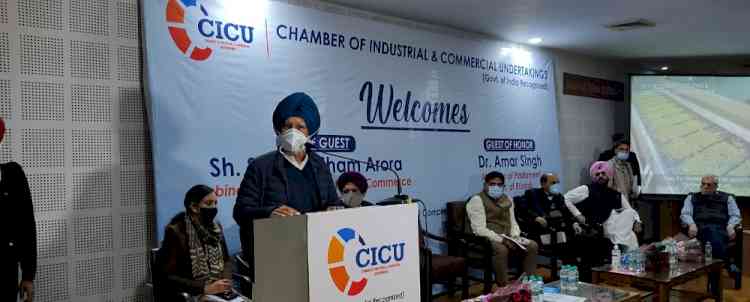 Ludhiana: Terming Industry as the backbone of the Punjab, Punjab Industries and Commerce Minister Sunder Sham Arora on Wednesday, vowed to end all the problems being faced by the industries by holding one by one weekly meetings.
 
Cabinet Minister Arora along with Fatehgarh Sahib Member Parliament (MP) Dr Amar Singh was here to attend the meeting with industrialists organised by the Chamber of Industrial & Commercial Undertakings (CICU) at CICU Complex here. Punjab Medium Industry Development Board Chairman Amarjit Singh Tikka, Chairman Punjab Small Industries and Export Corporation Gurpreet Singh Gogi, CICU president Upkar Singh Ahuja, Vice Chairman Punjab Large Industrial Development Board Ramesh Joshi, President Hand Tools Association SC Ralhan and Additional Managing Director Avneet Kaur were present in the meeting.  
 
Arora, while acknowledging that industries have been facing some issues said that the Captain Amarinder Singh led Punjab Government is committed to solve all the problems of the industrialists. He said that every individual industries can meet him in Chandigarh by taking appointment every week and he will solve all their problems one by one.
 
He said that some major decisions to facilitate the industrialists have also been taken recently by the Punjab Government which will be announced by the Chief Minister Captain Amarinder Singh soon.
 
Besides expressing gratitude to the Punjab Chief Minister Captain Amarinder Singh for his concerted efforts, Cabinet Minister Sunder Sham Arora also thanked the Railways and Central Government for resuming train movement in the state. He said that if the trains would remain stopped for some more time it could lead to huge losses to the state.
 
He also thanked farmers for their cooperation in lifting the protests on request of the Chief Minister and appealed to the single association of farmers in Jandiala Guru to lift the protest as well so that trains can move smoothly.
MP Dr Amar Singh also assured industrialists that concrete lining of roads was start of improvement of industrial facilities and he would work to ensure that dues and other grants available with Government of India were made available to Ludhiana focal point and its industries. He stressed that he is available round the clock to help resolve any issues being faced by the industry at the level of Punjab Government or Central Government.
 
MP Dr Amar Singh announced grant of Rs 25 lakhs from MPLAD funds to establish Centre of Excellence for Engineering in Ludhiana. He also assured industrialists every kind of support from his side. He said that with joint efforts they will make Ludhiana Industrial Area the best in the country in coming years.
 
On the occasion, Congress leader Kamil Singh Boparai, General Manager District Industrial Centre Mahesh Khanna among other prominent industrialists and officials were present.