Indian Institute Of Management (IIM) Ahmedabad to conduct special case study on "vaccination at doorstep" initiative of Ludhiana
Interact with Councillor Mamta Ashu for over an hour through video conferencing regarding drive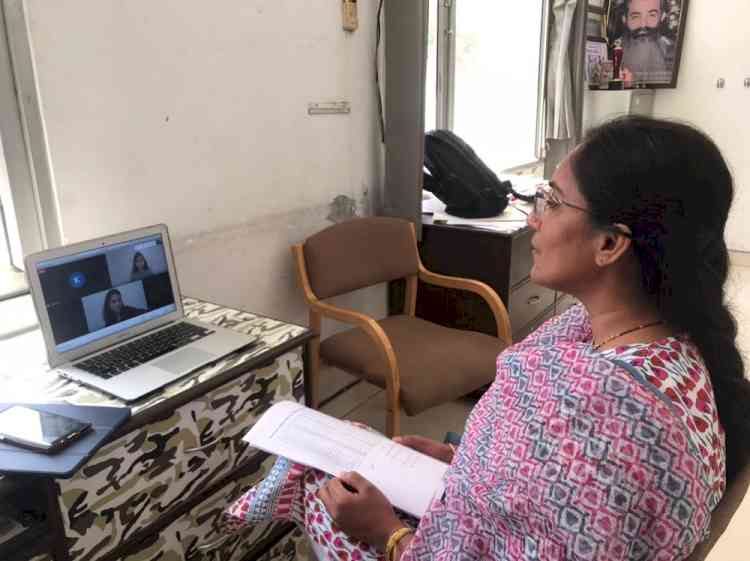 Ludhiana: In a matter of great pride, the prestigious Indian Institute of Management (IIM)-Ahmedabad will be conducting a special study on the "Vaccination at Doorstep" initiative of Ludhiana. A team of experts from IIM-A today interacted with MC Councillor Mamta Ashu through video conferencing regarding this special initiative, under which mega camps were organised in the district on April 3-4, 2021.
    A brainchild of Mamta Ashu, "Vaccination at Doorstep" initiative was started by the District Administration Ludhiana by organising a special camp in a park in Partap Nagar locality of the city on March 26, 2021. At this camp, more than 100 people were vaccinated.
    Mamta Ashu informed that after the success of "Vaccination at Doorstep" initiative, it was decided to organise mega camps in all parts of district Ludhiana on April 3-4, 2021. She informed that hundreds of camps were organised in almost every locality of the district and on the first day (April 3, 2021), 26483 people were vaccinated, followed by 22812 on April 4, 2021. She said that now that a momentum has been created, more than 11000 people are getting vaccinated daily. She said that due to the success of these mega camps, now Mega Camps would be organised in the district on every Tuesday and Friday of the week.
    Mamta Ashu informed the experts that this drive would not have been successful without the active support of Cabinet Minister Bharat Bhushan Ashu, Deputy Commissioner Varinder Kumar Sharma, and his team. She said that before the start of this special initiative, the Deputy Commissioner had held several meetings with his officers, NGOs, industrial/social/religious organisations, and all other stakeholders for the success of "Vaccination at Doorstep" initiative.
    Shraddha Upadhyay from IIM-Ahmedabad informed in the video conferencing that this special case study is being done as a part of KMIC (Knowledge Management and Innovation for Change) towards fair start to every child, that is envisioned as a joint endeavour of UNICEF and IIM-A which aims to build a knowledge constituency for children  and adolescents, especially belonging to the marginalised section.
    Miti Shah, Research Assistant at IIM-A, also participated in the video conferencing and said that the case study is being done under a joint initiative of IIM-Ahmedabad and UNICEF, as they have been working on the issues of local elected representatives in urban governance since 2017. "Presently, we are conducting a case study to document the contribution of councillors in the COVID-19 vaccination drive by detailing the good practices initiated by the councillors. At the same time, we seek to understand their modus operandi along with the challenges faced by them," she said.
WATCH A RELATED VIDEO CLIP ON OUR YOUTUBE CHANNEL
https://www.youtube.com/watch?v=vSJtxu5m6hc&feature=youtu.be