Indian airline sector on to a smooth flight despite air pockets
Taking off with much fanfare and crash landing has been the regular feature one sees in the Indian aviation sector ever since it was opened up.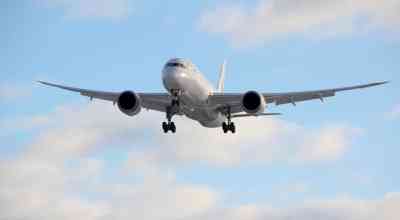 Source: IANS


VENKATACHARI JAGANNATHAN
Chennai, May 21 (IANS) Taking off with much fanfare and crash landing has been the regular feature one sees in the Indian aviation sector ever since it was opened up.
NEPC Airlines, Damania Airways, Jet Airways, Kingfisher Airlines, Deccan Aviation, Paramount Airways, are some of the several 'aya rams and gaya rams' or those who came and went.
Not only did the airlines go down, they also took down the huge sums lent to them by the government owned banks as well as the investments made by public shareholders.
It is a different matter that State Bank of India (SBI) had lent thousands of crores to Kingfisher Airlines against trademarks/brand value.
For a long time Air India and Indian Airlines (later merged with Air India) were able to stay afloat as they were owned by the Indian government. Only recently the Tata group has acquired Air India.
Be that as it may, now two airlines are hitting the news pages for financial problems are -- Go Airlines (India) Ltd and SpiceJet Limited.
Belonging to the Wadia group's Go Airlines early this month voluntarily landed at the National Company Law Tribunal (NCLT) with an insolvency petition which was later admitted an Interim Resolution Professional (IRP) got appointed.
The officials of Go Airlines said it was done to protect its fleet from being taken back by the lessors.
Go Airlines blamed the engine supplier Pratt & Whitney for its problems as nearly 50 per cent of its fleet of 54 aircraft is grounded due to engine faults and the latter refusing to supply spare engines.
On the other hand, the Ireland-based aircraft lessor Aircastle Ltd has moved the principal bench of NCLT to launch a bankruptcy process against the airline.
So, is the Indian aviation sector a story of 'aya ram and gaya ram' or is it set for a change?
It is said the growing middle class offers great opportunities for low cost carriers (LCC).
On the question of low cost airline a viable business proposition as several airlines have crash landed, Kaushik Khona the CEO of Go Airlines told IANS that the company was profitable from 2009-10 till 2019-20. Only from January 2020 the Pratt & Whitney engine problem aggravated and the company faced problems as an airline has a huge fixed cost.
Khona said only low cost airline business could be profitable.
The Indian government is also focusing on building new airports which in turn would increase air connectivity and higher passenger load for the airlines.
While that is for the future credit rating agency ICRA's report gives a different picture for the industry.
In its latest sectoral report ICRA said the industry is likely to cut down its losses to about Rs.50-70 billion in FY24 owing to a healthy passenger traffic and the ability to shore up their yields.
It is said the LCC segment is bogged down due to high costs and low ticket prices.
A high aviation turbine fuel (ATF) price coupled with depreciation of Indian rupee against the US dollar affects the bottomline of airlines.
"While the ATF prices have witnessed a sequential decline over the past four months, they still remain at elevated levels as compared to the pre-Covid era," said Suprio Banerjee, Vice President & Sector Head-Corporate Ratings, ICRA.
According to ICRA, the average ATF price stood at Rs. 121,013/Kl in FY2023 and Rs 99,506/KL in April 2023 compared to Rs 64,715/ Kl in FY2020.
Fuel cost accounts for about 30-40 per cent of the airlines' expenses, while about 35-50 per cent of the airlines' operating expenses -- including aircraft lease payments, fuel expenses and a significant portion of aircraft and engine maintenance expenses - are denominated in US$ terms. Further, some airlines also have foreign currency debt.
While domestic airlines also have a partial natural hedge to the extent of earnings from their international operations, overall, their net payables are in foreign currency.
According to ICRA, the Indian airline sector reported a net loss of about Rs 110-130 billion FY23 due to high ATF prices and rupee depreciation.
With domestic passenger air traffic on the uptrend now and sizable number of aircrafts grounded due to engine problems and Go Airlines out of air, the revenue of the airlines have improved owing to higher load factor and better pricing.
The domestic passenger traffic for April 2023 is estimated at about 129 lakh, similar to about 128.9 lakh in March 2023, though 22 per cent higher in comparison to about 105 lakh in April 2022 and 17 per cent higher than pre-Covid levels of about 110 lakh in April 2019, ICRA said.
In April 2023, the passenger load factor (PLF) for domestic airlines was about 91 per cent against about 81 per cent in April 2022.
According to ICRA, the net loss for the Indian airlines is expected to go down to Rs 50-70 billion in FY24 owing to higher passenger traffic and pricing discipline.
On the financial strength of airlines, Air India, Vistara and AirAsia have the backing of Tatas and for some the liquidity will be under stress for some time but better than past years.
ICRA said capacity addition in FY23 has been limited to around 10 per cent of the FY22 fleet of airlines, which was close to around 700 aircraft.
There are large aircraft purchase orders announced by various players in the industry. As per the indicative numbers, the total fleet deliveries pending are close to about 1,100, which is about1.5 times the fleet currently under operation.
However, these will be delivered over the medium to long term and a large part of these will be towards replacement of old aircraft with new fuel-efficient ones, said ICRA.
Even though many Indian airline brands take to the skies, only three passenger airlines -- InterGlobe Aviation Ltd (brand Indigo), SpiceJet, Jet Airways -- and one helicopter service company Global Vectra Helicorp Ltd are listed on the bourses.
Among the listed as well as the unlisted ones, InterGlobe Aviation is the market leader with 55.7 per cent market share and SpiceJet with 6.9 per cent as per the figures released by India's Ministry of Civil Aviation for the period Jan-March 2023.
Jet Airways is not operational now owing to financial problems.
Coming to the question whether the Indian aviation sector is set for stability with players continuing for a reasonable period of years, it seems the answer is yes.
The Tata group is set to merge Vistara and AirAsia with Air India. As of now the combined market share of the three airlines is 25.1 per cent (Air India 9 per cent, Vistara 8.8 per cent and Air Asia 7.3 per cent).
Post merger and with fleet expansion, Air India's market share should increase if all things are on proper track. On the other hand, InterGlobe Aviation should not be experiencing any turbulence given its market share.
Further with the passenger traffic increasing and better yields, the Indian airline sector should fly high.
(Venkatachari Jagannathan can be reached at [email protected])