Inaugural ceremony of online skill enhancement courses 
These courses are run by Apeejay College of Fine Arts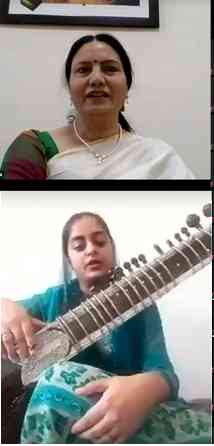 Jalandhar: The Inaugural Ceremony of Online Skill Enhancement Courses run by Apeejay College of Fine Arts, Jalandhar took place today which was conducted through Zoom and was also aired live on Facebook.
Addressing the young students, Principal Dr Sucharita Sharma put forth that with the help of bridge provided by Advanced Technology, we have been able to reach the young brigade of students and are making every possible effort to provide students the best quality of education. She also expressed the gratitude towards parents of students for trusting them. 
The event begun with Dr Vivek's song which was full of hope and faith that this too shall pass if all of us will stand together and fight it by following the protocols. 
Dr. Sunit Kaur, Vice Principal and Head of Department of English took the students to a virtual round of college and told everything about the college from its set up and motto to the courses it has to offer and the world class infrastructure.  
Various students of Skill Enhancement Classes as- Jhanvi Sekhri, Dilraj Singh, Trinabh Sareen, Ishita, Sukhraj Singh, Akriti, Sukhmanbir, Ishibha shared their experience being the part of these classes and how they are using this time in a very fruitful and productive manner due to the opportunity provided by the College and how all this learning is undoubtedly going to prove beneficial for them in future endeavors as well. Principal Dr Sucharita Sharma congratulated Ms Supreet Talwar for successfully conducting the event.