In view of upcoming monsoon season, Punjab government initiates cleaning of village ponds
Under first phase, around 500 village ponds to be cleaned in district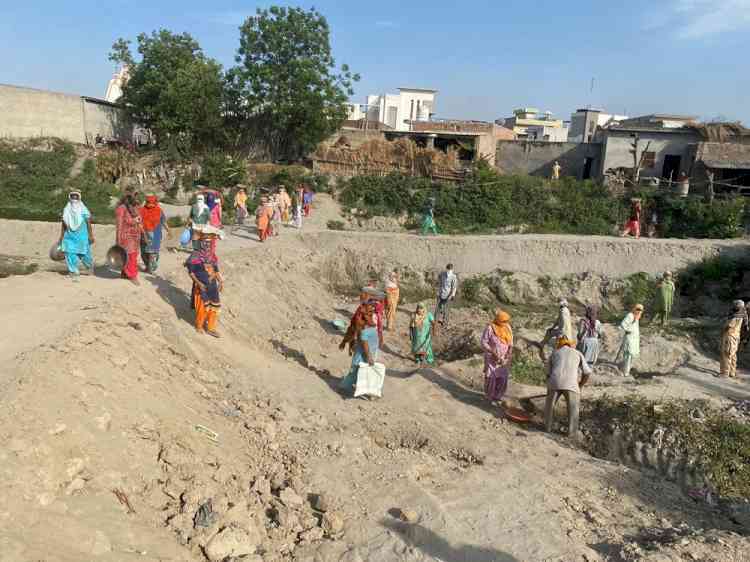 Ludhiana: In view of the upcoming monsoon season, the Punjab Rural Development & Panchayat Department has already started the work related to cleaning of village ponds so that it helps in preservation of the rain water and save crops from damage due to rain water. In the first phase, target has been fixed for cleaning around 500 village ponds in different wards of district Ludhiana.
    While providing information, District Development & Panchayat Officer Ludhiana Mr Piyush Chander said that as per the directions received from the department, the work of cleaning 500 village ponds out of total 1150 is going on in full swing, that would be completed by June 10, 2020. He said that later, the cleaning of remaining ponds would also be carried out.
    He informed that de-watering and de-silting of the village ponds is being done from the funds received with the panchayats, 14th or 15th finance commission or MGNREGA funds. He said that there is no shortage of funds regarding this work.
    He said that the Punjab government is planning to implement the Thapar Model or Punjab Pollution Control Board (PPCB) Model in villages where the panchayats have 1.5 acres of land for the village pond. He said that under these models, the pond water would be treated and used for agriculture purposes or dumped into the drain. He said that before implementing these models, the de-watering and de-silting of the village ponds would be done and in the first phase of this project, 5 villages in each block would be selected.
    It is pertinent to mention that the work related to cleaning of village ponds is also going on in full swing in villages falling under Ludhiana-2 block. This work is being carried out under the direct supervision of Mr Gagandeep Singh Virk, Divisional Deputy Director, Rural Development & Panchayat Department, Punjab, Mr Piyush Chander, DDPO, Ludhiana, Mr Jaswant Singh Braich, BDPO Ludhiana-2 and Mr Guriqbal Singh from MGNREGA. The officials showed satisfaction over the work being carried out in this regard. There are 182 ponds in 160 gram panchayats under block Ludhiana-2. The cleaning of ponds in 37 villages and de-silting work in 17 villages is going on.