In Bhabiji Ghar Par Hai, it is party time for whole of Modern Colony 
It is Saxena's (Saanand Verma) birthday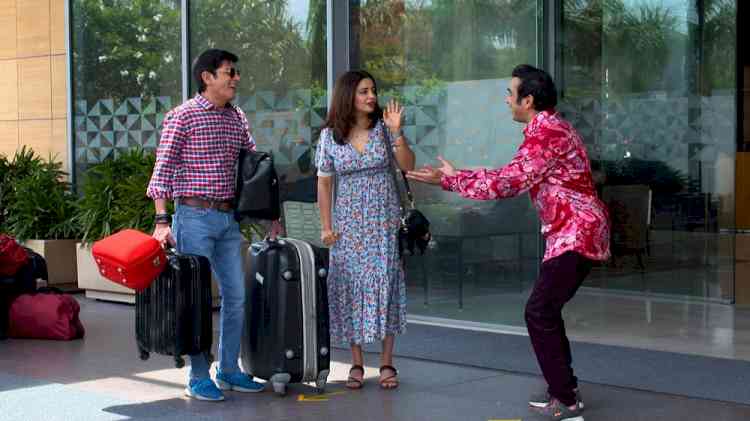 This week &TV brings an array of entertaining stories with new twists and turns, so sit back and watch on! In Bhabiji Ghar Par Hai, it is party time for the whole of Modern Colony as it is Saxena's (Saanand Verma) birthday. But instead of giving him gifts, Saxena has some unusual surprise that is bound to leave the audience in splits. In Happu Ki Ultan Paltan, Daroga Happu (Yogesh Tripathi) is on an undercover mission, but will his emotional and dramatic Indian family threaten his assignment? While in Aur Bhai Kya Chal Raha Hai?, Zafar Ali Mirza (Pawan Singh) has fallen prey to betting and gambling addiction courtesy Bittu Kapoor (Anu Awasthi) and Pappu Pandey (Sandeep Yadav). And in Santoshi Maa Sunaye Vrat Kathayein, Singhasan Singh (Sushil Sinha) has joined his family at the resort with news that will leave the entire family in complete shock. Who is the father of Swati's (Tanvi Dogra) unborn child? Devesh (Dhiraj Rai) or Indresh (Ashish Kadian)? 
Talking about the track, Saanand Verma, aka Saxena from &TV's Bhabiji Ghar Par Hai) shares, "It is my birthday, and I have decided to throw a grand party, and everyone is invited! And a beautiful resort is booked, and a change of location is what Modern colony needs. There is loads of excitement and fun in the anvil. But as things will turn out, Saxena's witty moves will lead to complete chaos. 
Yogesh Tripathi aka Daroga Happu from &TV's Happu Ki Ultan Paltan shares, "Rajesh (Kamna Pathak) aur Katori Amma (Himani Shivpuri) se kuch nahi chupta! Whether it is a lie or an important undercover mission. Happu is trying to catch the killer of a famous singer, but will his family stand in the way of his task by ruining his disguise?" 
Pawan Singh aka Zafar Ali Mirza from &TV's Aur Bhai Kya Chal Raha Hai? shares, "Akkad bakkad bambe oh no! When Mirza and Bachchan (Mehmood Hashmi) lose all their money, winning the lottery, disaster is inevitable. How will they get out of this mess and makeup with their families?" 
Sushil Sinha, aka Singhasan Singh from &TV's Santoshi Maa Sunaye Vrat Kathayein shares, "I have arrived at the resort to disrupt Swati's life. I will break a piece of news that will make everyone doubt Swati's loyalty and jeopardise her marriage. How will Swati find a way out of this situation, and will she be successful in convincing Indresh? There is high-voltage drama in-store."