Impressive display of innovative products 
Display of future of automobile technology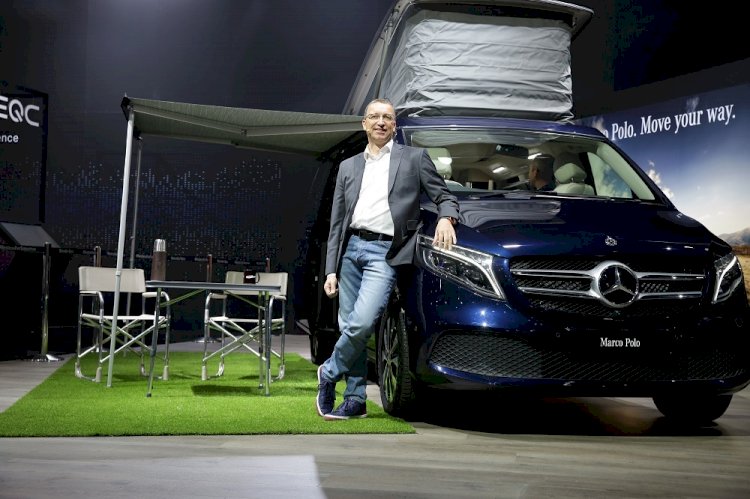 Martin Schwenk, Managing Director & CEO, Mercedes-Benz India posing with the V-Class Marco Polo launched at the Auto Expo in Delhi.
Chandigarh: India's largest luxury carmaker Mercedes-Benz and Mercedes-Benz's largest R&D facility outside Germany- MBRDI; presented an impressive display of innovative products and displayed the future of automobile technology, which these two companies offer for the discerning Indian as well as global customers. While Mercedes-Benz India launched the unique V-Class Marco Polo and Marco Polo HORIZON luxury vehicles in India and showcased the Volocopter which is future of sustainable mobility; MBRDI highlighted the cutting-edge research work on MBUX undertaken in Bangalore and also wrapped up the Hackathon 2019. The Marco Polo was launched in India by Martin Schwenk, Managing Director & CEO, Mercedes-Benz India and together with Manu Saale, Managing Director and CEO, MBRDI; Mercedes-Benz unveiled the mobility of the future Volocopter. 
 
The Marco Polo takes its body design from its base vehicle, the V-Class, giving an impression of unexpectedly generous space, and nonetheless showing compact exterior dimensions. Thanks to powerful and efficient engines, the 9G-TRONIC suspension, and high safety standards, the Marco Polo is suitable for long journeys and at the same time, it is easy to drive/handle as a passenger car.
 
Speaking about the launch, Martin Schwenk, Managing Director & CEO, Mercedes-Benz India commented, "The V-Class and V-Class Elite pioneered the luxury MPV segment in India and has witnessed much success ever since their launch. We are excited to expand the segment and launch the Marco Polo which is based on the V-Class, and create a new benchmark in the luxury MPV segment. Thanks to the compact dimensions of the Marco Polo and vehicle technology inherited from the V-Class, the Marco Polo and Marco Polo HORIZON are suitable for long journeys and at the same time for day-to-day and urban usage. The Marco Polo combines functionality with utmost luxury, unparalleled comfort, convenience, and uncompromised safety, all of which illustrate true characteristics of a Mercedes-Benz vehicle. We will continue to expand our portfolio with innovative products and sustainable technology in India."
 
Manu Saale, Managing Director & CEO, Mercedes-Benz R&D India said, "To us luxury and technology are concepts that are so closely linked, that they represent two sides of the same coin. As automobile inventors and innovators, it is imperative for us to come up with breakthrough disruptions in the auto space that set new industry benchmarks while providing convenience, ease and a comprehensive portfolio of choices to our customers. We believe that the future of mobility should be intelligent, clean and accessible, and we are confident in our innovations and sustainable concepts in this regard. Through our connected car technologies such as the MBUX, our latest concept car VISION AVTR and the trailblazing innovation of the Volocopter, we want to drive our customers into the future."