IMA Ludhiana doctors start 25-bedded covid care centre at Lord Mahavira Homeopathic Medical College and Hospital
Hospital to be managed and run by doctors from IMA Ludhiana: Bharat Bhushan Ashu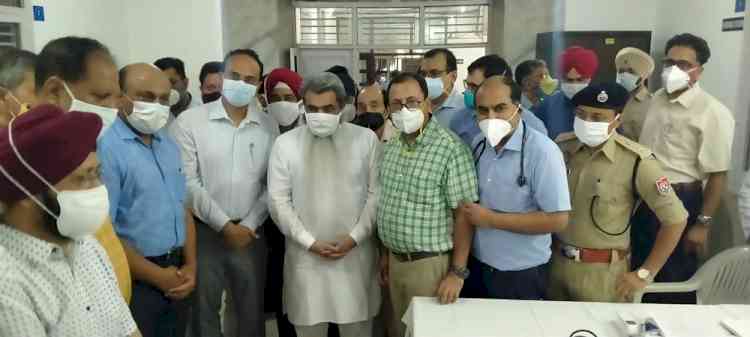 Ludhiana: With the efforts of Punjab Food, Civil Supplies & Consumer Affairs Minister Mr Bharat Bhushan Ashu, the Indian Medical Association (IMA) Ludhiana have set up "IMA Ludhiana Covid Care Centre" at the Lord Mahavira Homeopathic Medical College & Hospital, Hambran Road, here. This centre was inaugurated by Mr Bharat Bhushan Ashu today. He was also accompanied by Deputy Commissioner Mr Varinder Kumar Sharma, and several others.

    While speaking to media persons on the occasion, Mr Ashu thanked both IMA Ludhiana and the management of Lord Mahavira Homeopathic Medical College & Hospital for assisting the district administration in this hour of need. He said that he is also in talks with other private hospitals for taking over the government hospitals so that best healthcare services can be provided to the residents.

    Mr Ashu said that Ludhiana being in the centre of state, people from several other districts are also undergoing Covid treatment in both private and government hospitals in the city. He assured the residents that there is no shortage of beds in either the private sector or government sector. He also urged the residents to visit their nearest hospital immediately when they feel like having Covid like symptoms.

    Dr Sunil Katyal, President, IMA Ludhiana, informed that to start with, this Covid care centre would be 25-bedded and in next few days, it would be made 50-bedded. He said that specialist doctors, medical officers, nurses, ward boys, technicians, sweepers and other staff have been specially hired for smooth running of this centre and all these expenses would be paid by IMA Ludhiana. He said that the entire hospital would be sanitised daily and Covid samples would also be taken here.

    Mr Varinder Sharma said that people from all sections of the society should contribute during today's testing times. He also urged other social organisations to come forward and set up such centres and assured all possible help from the District Administration side for their operations.