IKGPTU Registrar Dr. Misra & his team Invention patented by the Government of India
The low-cost project is effective to sanitize the tires of vehicles & it was filed in year 2020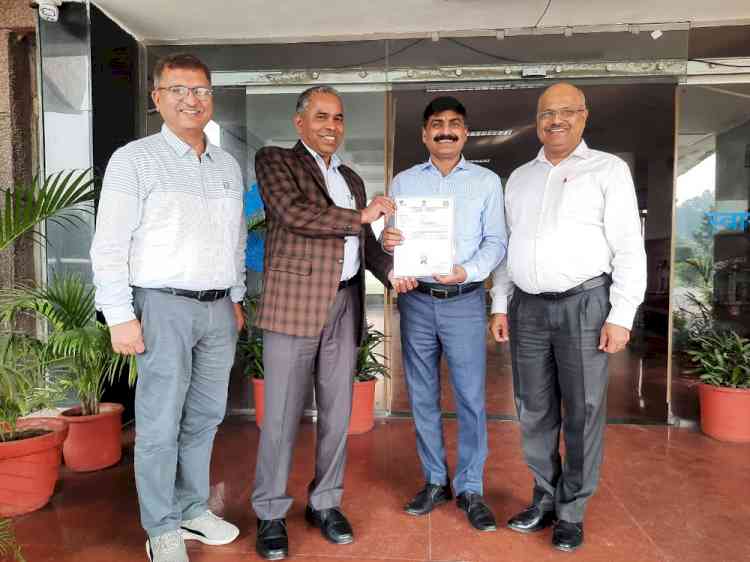 NIT Director Prof Binod Kanojia_VC IKGPTU Dr Susheel Mittal presenting patent certificate to Dr S K Misra.


Jalandhar/Kapurthala, November 20, 2023: The invention of Dr. S.K. Misra, Registrar, I.K. Gujral Punjab Technical University (IKG PTU) and his team has been patented by the Government of India. This invention was made in the year 2020 during Covid-19 pandemic period. At that time, Dr. S.K. Misra was serving as Registrar at Dr. B.R. Ambedkar National Institute of Technology (NIT) Jalandhar. In this project, the then Director of NIT Dr. Lalit Awasthi and Professor of the Department of Chemical Engineering of NIT, Dr. Shailendra Bajpai had enthusiastically participation. This patent has been registered jointly in the name of all three by the Patent Office, Government of India under patent number 466500. This is a low-cost project to sanitize vehicle tires. IKGPTU Vice Chancellor Dr. Susheel Mittal and NIT Director Prof. Binod Kumar Kanojia honored Dr. Misra and his team for this achievement by presenting them a copy of the patent certificate. Dr. Misra and his team have been congratulated from both sides institutions and inspired to do more exemplary work in the future.
Regarding the patent, Dr. Misra said that there was a possibility during Covid-19, also a fear that It was one of the possibilities is that the virus that is falling over the other road or tracks gets into the contact with the wheels of the cars entering into the campus. Therefore, contaminated roads or tracks may infect person walking over it. It is important to sanitize all the vehicles entering into the campus premises through Car wheel sanitization system. This system comprises of wooden enclosure through which the car is made to run through it. The wet pad of the system containing 1% sodium hypochlorite solution disinfects the wheels ones the car wheel is run through it. He said that it was applied for patent on August 1, 2020. He assures that in future this invention will play a successful role in making vehicle tires germ-free/virus-free at low cost.