ICAR-Industry collaborative technology showcased in webinar on 'Microwave Disinfestation of Food Grains'
The webinar was organized by ICAR-CIPHET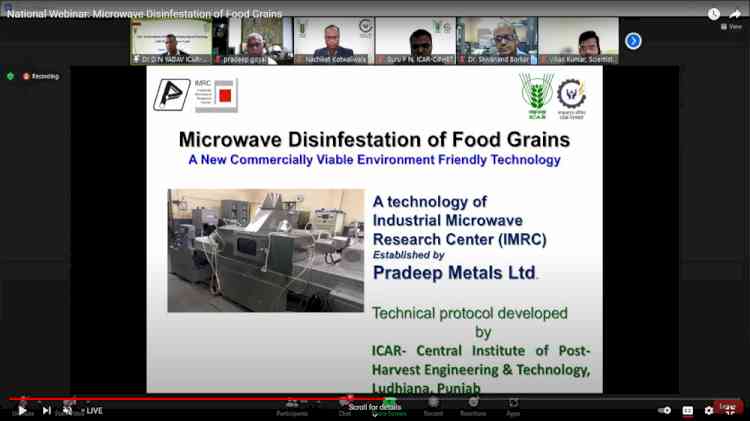 Ludhiana, February 23, 2022: Today, ICAR-CIPHET, Ludhiana organized a technological solution based webinar on 'Microwave Disinfestation of Food Grains'. The webinar was based on the successful technology developed in ICAR-Industry collaborative efforts of ICAR-Central Institute of Post-Harvest Engineering and Technology (CIPHET), Ludhiana (Punjab) and Industrial Microwave Research Centre (IMRC) of Pradeep Metals Ltd., Navi Mumbai. 
To ensure food security, a proper pest management is required for storing grains for a long time. There are several measures used to prevent insect infestation in food grains. Microwave process is one of such novel eco-friendly technology where microwaves selectively interact with insects and kill or alter their normal growth. It indirectly reduces their population build-up. In this process, food grains are exposed for a few seconds in order to kill all the stages insects while retaining food quality. Industrial Microwave Research Center (IMRC), of M/s. Pradeep Metals Ltd., in association with ICAR-CIPHET has established a semi-commercial continuous microwave system for disinfestation of the food grains. ICAR-CIPHET, Ludhiana has standardized the process protocol for treatment of the food grains like rice (basmati and non-basmati) and wheat. The joint study indicated that microwaves can be used as an instant and environment friendly pre-treatment process for disinfestation of the food grains before packaging, storage and transportation. The study indicated that microwave treated grains can be stored without infestation for at least 12 months, if cross infestation is avoided. The technology was developed with the efforts of project team led by Dr. D. N. Yadav, Principal Scientist, associated by Dr. Guru P. N., Dr. Swati Sethi, Dr. R. K. Singh of ICAR-CIPHET, Ludhiana and Dr. Shivanand Borkar and his technical team from IMRC-PML, Navi Mumbai. Currently the pilot scale prototype of the Microwave treatment system is available at IMRC-PML, Navi Mumbai.
Dr. Nachiket Kotwaliwale, Director of the Institute and convener of the webinar briefed the participants about ICAR-CIPHET, Ludhiana and its role in post-harvest management and rationale of the Technology. Mr. Pradeep Goyal, Founder and CMD of Pradeep Metals Ltd., Navi Mumbai briefed the role of industry in technology development, application of continuous microwave system and its economical feasibility. He also said that he is making efforts with the Government of India for implementation of the disinfestation system to establish at different stakeholder level. Sh. Tarsem Saini, President -The Federation of All India Rice Millers Asso. Appreciated the efforts of the ICAR-Industry in development of such need based technology. He also wished to witness a live demonstration of the technology. He was with the view that such disinfestation system may be immediately applicable to basmati rice exporters. Further, it may be extended to other high valued commodities as well. The webinar was also graced with the presence of Dr. C. L. Ram., Executive Director, Food Corporation of India. 
The webinar was attended by around 100 participants that includes rice millers, grain (cereal and pulses) millers, industrialists, start-ups, scientists and budding entrepreneurs from different parts of the country.