ICAR-CIPHET organised webinar on Plant Based Dairy Analogues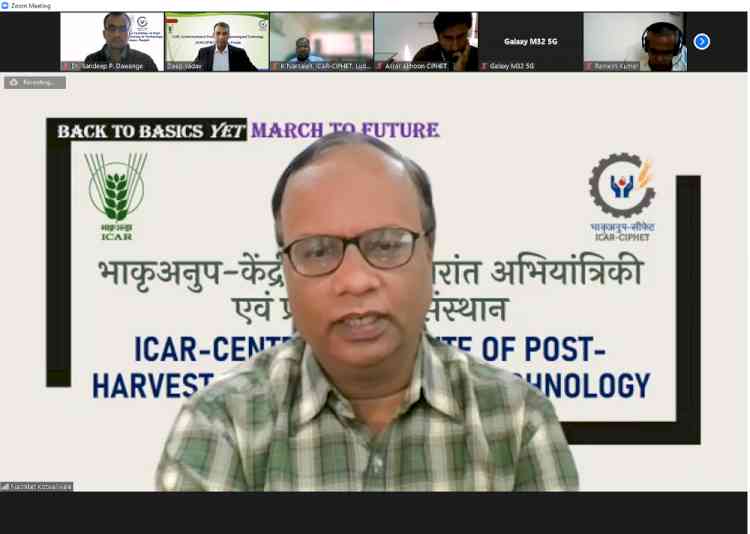 Ludhiana, November 29, 2021: An online webinar on the topic 'Plant Based Dairy Analogues A Healthy Choice' was organised by ICAR- Central Institute of Post-Harvest Engineering & Technology, Ludhiana, a leading research institute in the country. The fourth webinar in 'National Webinar Series on CIPHET Post-Harvest Technologies' was delivered by Dr. D. N. Yadav, Head, transfer of Technology Division of the Institute.
Dr. Nachiket Kotwaliwale, Director, ICAR-CIPHET said that plant-based milk analogues are the best alternatives to be used in a 'vegan diet' and lactose intolerant population. He elaborated on the wide scope as well as the work conducted by ICAR-CIPHET in this area of food processing. Different training programmes offered by the institute for entrepreneurs and farmers were also discussed by the Director. 
Dr. D. N. Yadav, speaker of the webinar explained the detailed process and machinery requirements for the preparation of milk analogues from soybean and groundnut. The technology has been adopted by more than 25 entrepreneurs and some are using the facility available at the Institute through Custom Hiring Service. 'The textural and sensory properties of products (Curd, Paneer, Tofu) prepared from plant-based milk analogues are acceptable to customers and have high demand in the market due to its nutritional advantages' said the speaker. All the products can be custom-made to suit the nutritional (Protein, and Fat content) requirement of the consumer.
The yearlong series of virtual webinars is being organised under the guidance of Dr. Nachiket Kotwaliwale, Director, ICAR-CIPHET, Ludhiana to commemorate 75 years of Independence during 15 Aug 2021 to 15 August 2022 with the theme 'Aazadi Ka Amrit Mahaotsav'. Under this series, one technology per month will be presented/demonstrated online to the stakeholders in the last week of every month up to August, 2022. The webinar was coordinated by Dr. Sandeep P. Dawange and Dr. K. Bembem, scientists of Transfer of Technology Division of the institute. The Fifth webinar of the series is on the topic 'Entrepreneurship through Mechanized Wadi Making' and will be delivered by Dr. Sandeep Mann on 23 December 2021.