ICAR-CIPHET organised Swachhata Pakhwada Cleanliness Campaign
Swachhata Pakhwada Cleanliness Campaign was organized at ICAR- Central Institute of Post-harvest Engineering and Technology, Ludhiana and Abohar campus during 16 to 31 December, 2021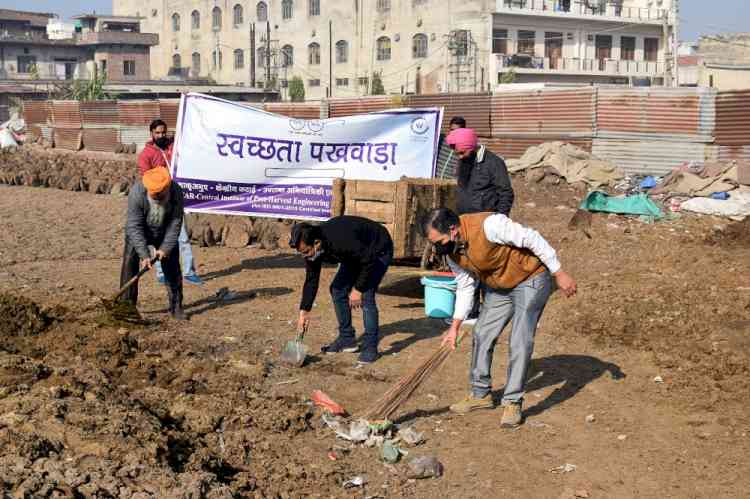 Ludhiana, December 31, 2021: Swachhata Pakhwada Cleanliness Campaign was organized at ICAR- Central Institute of Post-harvest Engineering and Technology, Ludhiana and Abohar campus during 16 to 31 December, 2021. Swachhata pledge was taken by all the employees of the institute. All the employees were grouped into different teams for coordinating various activities and sensitizing the society about the importance of Swachhata. Dr. Nachiket Kotwaliwale, Director, ICAR-CIPHET, Ludhiana, highlighted the relevance of swachhata in daily life and the necessity of everyone's participation in this Pakhwada. Dr. Pankaj Kumar (Nodal Officer, SBA) lead the activity of plantation of saplings of trees in the campus. "Children are the future of a country" and therefore, an awareness campaign was organized for the students of Government Senior Secondary School, Ayali Khurd, Ludhiana. The students were sensitized about reducing wastage of food materials and various techniques for converting waste to wealth. The students were also made aware about the importance for discontinuing use of single use plastic and overall cleanliness.
A webinar was organized about the "Organic Farming: Potential and certification" as part of 'Swacchata Pakhwada', on Kisan Diwas. Dr. Madhu Gill, Senior Manager, Organic Farming Council of Punjab shared her know-how of organic farming and the certification process and nearly 100 farmers from across the country attended the webinar. Awareness cum demonstration programme was conducted in Bahawal Bassi village of Abohar, on conversion of waste to wealth and safe disposal of all kinds of waste in village. About 20 farmers were trained on conversion of kitchen and farm waste to compost.
The team of ICAR-CIPHET employees also visited different villages, market places and Gowsala's in Ludhiana (Mallakpur, Pratapsinghwala and Jainpur) and Abohar (Malook Pura) and conducted cleaning programmes. This involved cleaning and collecting of garbage and segregating them into bio degradable and non-biodegradable followed by properly disposal, cleaning of sewerage and water lines, creating awareness on recycling of waste water and water harvesting for using in agriculture/horticulture/kitchen gardens in residential colonies.