ICAR-CIPHET celebrated World Soil Day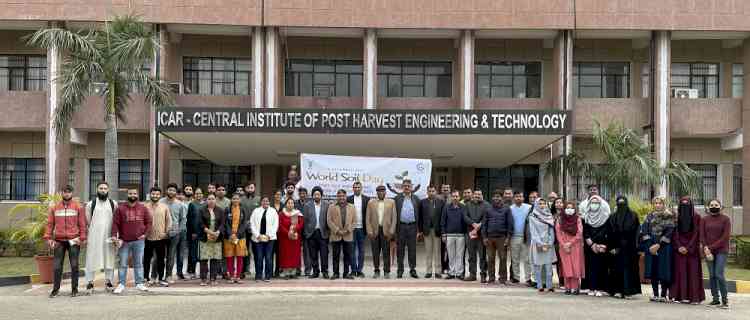 Ludhiana, December 5, 2021: ICAR-Central Institute of Post-Harvest Engineering and Technology, Ludhiana celebrated World Soil Day on 5, December, 2021. Soil is one of the important components of ecosystem. It is often called production base and soul for sustaining life on the earth plant. This day signifies the importance of soil in our ecosystem and the critical impacts of soil degradation. A series of lectures were delivered by experts on maintaining health and enhancing productivity of soil. Dr Angrej Singh, Associate Professor, COAET, PAU, Ludhiana enlightened the participants about the importance of managing soil organic matter to boost soil productivity. Dr Rakesh Sharda, PI, AICRP on PEASEM, PAU highlighted that nutritional security also depends on the health of the soil. Healthy soil will lead to healthy plants, healthy food and in turn to healthy humans. Dr K G Singh, Ex Head, Department of SWCE, COAET, PAU, Ludhiana said only 9 per cent of the total land is available for utilization by humans for cultivation as well as living. Dr R K Singh, PC, AICRP on PEASEM, highlighted that use of more chemical fertilizer will leads to increase in the salt (Sodium) level in the soil which leads to soil salination. Therefore, farmers should be encouraged to incorporate more organic matter in their field to maintain the health of the soil.
About 60 participants which include staffs from ICAR-CIPHET, students from SKAUST-K, Srinagar and BSKKV, Dapoli attended the programme.