ICAMSE 2020 organised by UIET, PU
Total 131 papers have been accepted and published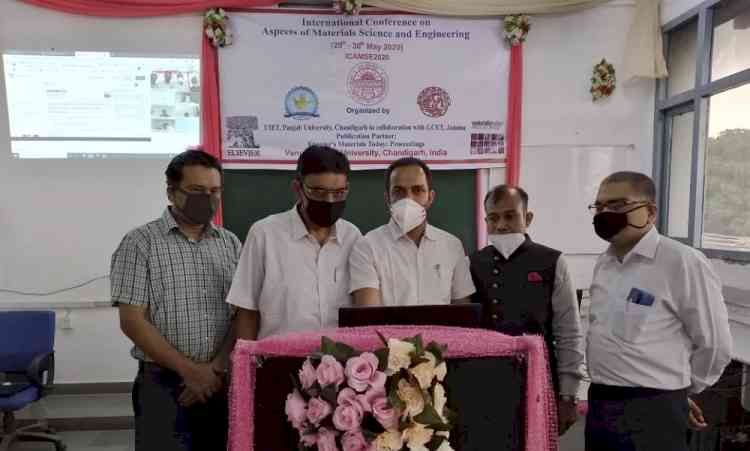 Chandigarh: The first online International Conference on Aspects of MATERIALS Science and Engineering(ICAMSE2020),organized by University Institute of Engg & Technology,Panjab University,Chandigarh was inaugurated today by Prof Karamjeet Singh, Registrar. He motivated the participants from different parts of the country to learn the different aspects of science, and technical field; enrich the knowledge sharing during the current pandemic.
 Chief Guest, Prof S K Das, Director IIT Ropar appreciated the efforts to conduct the International Conference of Elsevier Scopus indexed Materials Today Proceedings during this COVID-19 pandemic and termed this pandemic as an opportunity to open a window for new learning. He also shared his research work with the participants
Prof. Philip Breedon, NTU, UK was the Guest of Honor and he briefed the participants with the latest materials related developments and research work carried out in his lab at NTU, UK.  
Earlier,Dr. Parveen Goyal, coordinator of the conference welcomed the dignitaries and participants. He apprised about the aim of this conference being to bring together people from academia, industry and research organizations to a common platform to exchange ideas and recent developments in the area of innovation and modern technologies in various fields of materials science and engineering.
Total 131 papers have been accepted and published. Dr. Parveen also highlighted the achievements of the University like online documentation, paperless, tracking system, higher education increments, digitization, swatch abhiyaan, tree plantation etc. with the support and farsightedness of  PU VC and Registrar. The proceedings were released by Prof. JK Goswamy, Prof. Manu Sharma, Dr. Amit Chauhan, Dr. Parveen Goyal, Dr. Shankar Sehgal and vote of thanks by Dr. Shankar Sehgal.