I-TREC Project supervised by DC Dr Shena Aggarwal at CHC Mukandpur 
She enquired about the online entry on Asha app of the villagers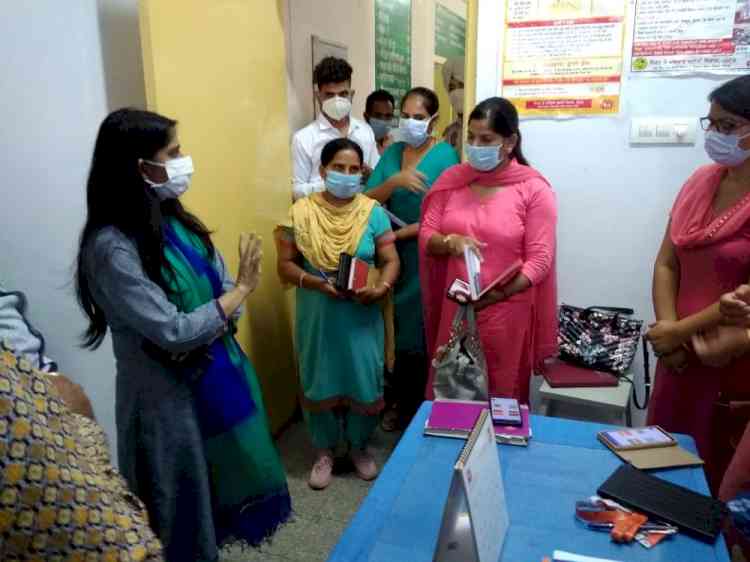 Deputy Commissioner Dr Shena Aggarwal enquiring about the app from Asha workers at CHC Mukandpur.
Nawanshahr: Under the supervision of Civil Surgeon Dr RP Bhatia and SMO Dr Ravinder Singh, the Deputy Commissioner of SBS Nagar Dr Shena Agarwal supervised the I-TREC Project being carried-out at CHC Mukandpur. She enquired about the online entry on Asha app of the villagers who commonly suffer from high blood pressure, diabetes and cardio- vascular diseases.
 
These findings will have the potential to revolutionize care for deadly chronic diseases across all 75 villages, in the most vulnerable and hard-to-reach patients, who rely mostly on the government healthcare system and generate a scalable model that can be applied to other similar settings.
 
Asha workers gave the detailed working of the app and further ANMs, staff nurse and Medical Officer incorporated the syncing and execution process of the app and the final delivery of the free medicines to be given to the patients. This whole data would be available at the central and state level.
 
During this briefing, District Family Welfare Officer Dr Sukhwinder Singh Heera, Dr Naranjan Pal, Dr Navaldeep, Harpreet Singh Block Extension Educator, Staff Nurse Mandeep, ANM Amarjit kaur, Pooja and Asha workers Jaswinder, Sonia, Manjeet and Jaskaran were present.