Hyundai inaugurates new corporate headquarters in Gurugram
The inauguration ceremony was attended by Haryana CM,  Manohar Lal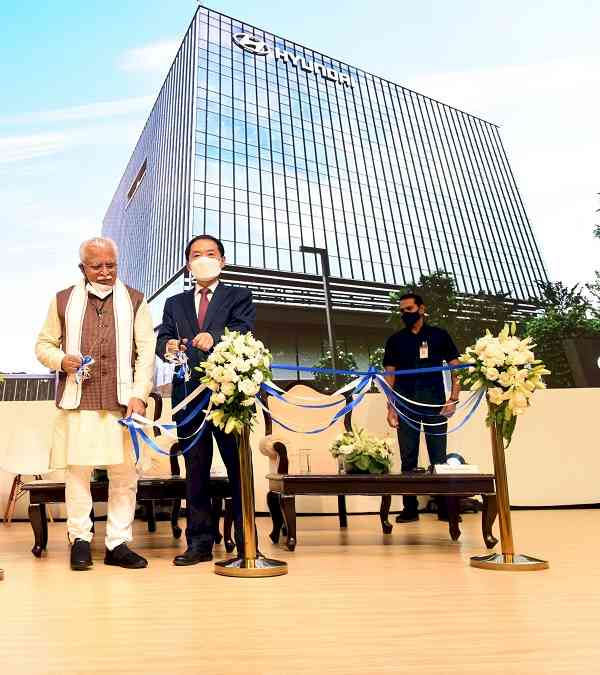 Chandigarh: Hyundai Motor India Ltd, today inaugurated its new state-of-the-art corporate headquarters in Gurugram. The inauguration ceremony was attended by Haryana CM,  Manohar Lal.
The headquarters will pave way towards seamless development in the sphere of mobility and beyond while becoming the 'Center for Transformation of a Better Tomorrow'.
S.S Kim, MD & CEO, Hyundai Motor India Ltd., said, "Harnessing the strength of 25 years of excellence in India, Hyundai Motor India has surpassed yet another significant milestone with the grand inaugurate its state-of-the-art new Corporate Headquarters in the heart of Gurugram. This new building stands as a symbol of Hyundai's journey of togetherness with the people of India. The new HMI Corporate Headquarters has been built on the tenets of Hyundai's global vision 'Progress for Humanity."
 
To perfectly harmonize human interactions with nature and technology in the New Corporate Headquarters, Hyundai Motor India developed a concept that epitomizes the Body, Mind and Soul achieving an unparalleled experience for employees in this Home away from Home.
The state of art facility has been developed with a total built up area of over 28 000 square meters, incorporating multiple facets to empower individuals and stakeholders. Through its technological prowess and human centric vision, Hyundai Motor India has carefully blended together elements that curate an ecosystem abundant with energy, positivity, harmony, nature and technology.