Hyderabad to host world mithai and namkeen convention 
Mithai and Namkeen Industry makes a silver mark by crossing the Rs. 1L cr turnover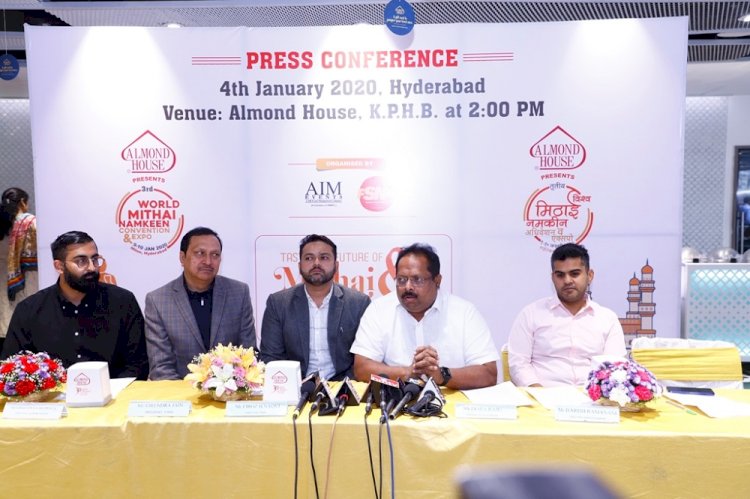 Seen Mr.Dora Raju(2nd Right) Addressing Media at World Mithai Namkeen Convention & Expo Curtain Raiser also seen Chaitanya, Virender Jain,Firoz H Naqvi, Harish Ramani (From left).
Hyderabad: In a significant development, Mithai and Namkeen industry leaders have announced to host the 3rd World Mithai Namkeen Convention at Hitex, Madhapur in city on January 9 and 10, 2020.
 
Announcing this on Saturday(04 January, 2020) in a curtain raiser event held at Almond House, KPHB, different stake holders vowed that it would be one of its kind events in the city for the sweet lovers. The event is being organized by the Federation of Sweets and Namkeen Manufacturers (FSNM) in association with Almond House.
 
Speaking on this occasion, FSNM president Virender Jain said that " The industry had crossed Rs.100,000 cr mark and would definitely show a double digit growth rate in the next decade year on year."
 
The press conference was attended by Chaitanya Muppala, Director, Almond House, Dora Raju, proprietor, Olive Mithai, Harish Ramani, Director, Karachi Bakery and Chetan Agwarwal, Director, Bikaneerwala.
 
Firoz H Naqvi, Director of FSNM stated that Hyderabad was had become the capital of Mithai Industry.
 
He said that the industry had been facing many issues related to different slabs of GST, food safety and other compliances and could have performed much better if these challenges were not there. 
 
The Mithai and Namkeen industry is one of the oldest businesses in India serving the country since ages. The time has arrived, gearing up this industry to modernise and upgrade itself and we can see the results shaping up in front of us, he added.
 
"Today Namkeen can be found in every nook and corner, from a small village to  every Mandir, Dargah or Gurudwara,'' said Firoz Naqvi, and also added that industry had more than 100,000 manufacturers across the country doing homogenous  business, even though a majority of them are not counted in the total  turnover of organized business category.
 
Olive Mithai head Dora Raju on this occasion said that there were more than 50,000 retailers in the Mithai industry which is striving to preserve the symbolical sweet dishes for years. He pleaded the government to give some waivers for the benefit of lakhs of people associated with the industry.
 
Companies like Haldirams, Balaji, Bikano, Bikaji, Yellow Diamond, Cornitos have already made their footprints not only in national market but also overseas.  
 
Speaking to the media, Director of Almond House, Chaitanya Muppala told that, "We are very fortunate that Hyderabad is hosting 3rd WMNC. This show is taking place for the 1st time in South India; hence we are expecting robust response from all over 5 southern states".
 
Muppala also informed that Almond House is the Title Partner of this show and invited all the people interested in this industry for better experience and knowledge for the growth of their businesses.
 
The industry employs more than 1 crore people directly and many more indirectly. It is the biggest buyer of raw materials such as flour, besan, sugar, ghee, oils and spices in the country. In fact today, in India a modern sweet arcade is somewhat structurally similar to a big jewelry shop; indicating the growth of this industry in the premium league Almond House, Bikanerwala, Asha Sweets, Haldirams, A2B and many other brands have all invested hugely in the interiors of their showrooms to give world class experience to their customers.