Hudson Canola Oil the best and the healthiest cooking oil
Milind Acharya, Marketing Head - Bunge India says, this oil has always been a house manager's best friend in the kitchen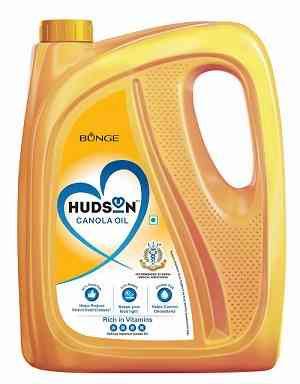 Chandigarh:  The oil is made from crushed seed of Canola flower in Canada, it's the best oil for heart and overall health. Canola oil contains good amounts of mono unsaturated fats, omega 3 and omega 6 fatty acids, which makes it the healthiest cooking oil out there. Canola oil has more than 90% good fats, which helps cut cholesterol levels. It is naturally rich in vitamins E and K and helps reduce skin problems and ageing signs like acne, fine lines, wrinkles, blemishes and spots apart from helping in maintaining coagulation of blood.
Hudson Canola has lowest content of saturated fats than any other commonly used cooking oil. Canola oil has 7% saturated fat, compared to 9% for sunflower oil, 13% for corn oil, and 14% for olive oil. Contains 91% Good Fats - Helps reduce risk of heart diseases.
These qualities make Hudson Canola a perfect canola oil for all kind of Indian cooking - Tadka, curries, deep frying, shallow frying.  Indian kitchens are filled with delicious sounds of crackling mustard seeds, sputtering red chillies, the sizzle of sautéed onions and hiss of crunchy vegetables being added to the mix. Whether it's the prep for everyday sabzis or that special tadkaa which only your mom gets right, special jalebis fried for the youngest in the house or parathas made specially for you something is always cooking!With a high smoking point of 242 degrees,Hudson Canola Oil is the best oil for all types of Indian cooking and even baking.
Mr. Milind Acharya, Marketing Head - Bunge India says, "Hudson Canola Oil has always been a house manager's best friend in the kitchen. With its high percentage of Good fats, high smoke point, non-greasy texture, and high levels  Omega 3, Hudson Canola oil is determined to keep you and your family healthy asyou enjoydelicious food cooked in it. With its high smoke point it is suitable for all kind of Indian cooking, be it shallow frying or deep frying. With its low absorption properties and the goodness of Canola oil, Hudson is indeed one of the most suitable solution for a health-conscious Indian Foodie. The new packaging lends a fresh and innovative look to the product highlighting the qualities of the brand".
Hudson Refined Canola Oil is fortified with Vitamin A and Vitamin D which helps in protecting eyesight and strengthening the bones. Hence Hudson canola is one amongst the very few healthiest vegetable oils that is loaded with abundant goodness in a wholesome manner.