HSNC Cluster University holds its first General Council Meeting at Mumbai
Governor Koshyari and Dr. Niranjan Hiranandani, Provost - HSNC University preside over the maiden General Council meeting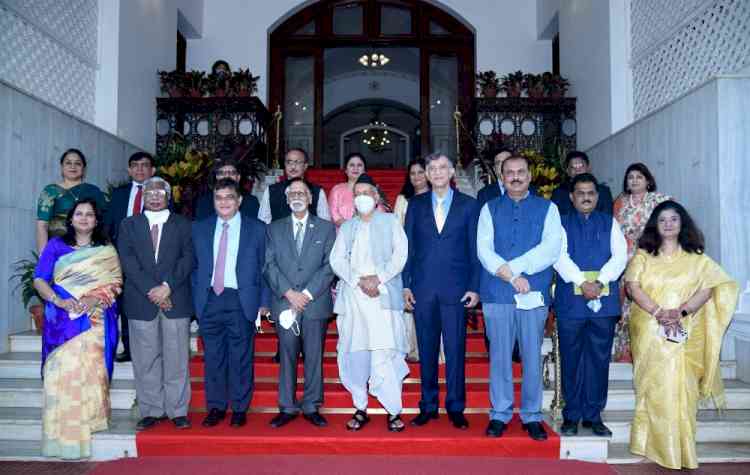 General Council of HSNC University with Provost - Dr. Niranjan Hiranandani and Governor Bhagat Singh Koshyari at Raj Bhavan.
Mumbai: Hyderabad (Sind) National Collegiate Board, a collegiate public state university, organized its first General Council Meeting today at Raj Bhavan, Mumbai. The Governor of Maharashtra and Chancellor of the universities along with the Provost of HSNC University Dr. Niranjan Hiranandani presided over the first General Council Meeting of the newly constituted HSNC Cluster University on Monday along with other University dignitaries.
 
Addressing the meeting, the Governor said the small size of the Cluster University will help it achieves excellence and maintains the highest standards of education. He complimented the University for offering innovative programmes through its School of Real Estate, School of Applied Sciences, Yoga, Music, and Performing Arts.
 
Seconding to the Governor's statement, Dr. Niranjan Hiranandani, Provost - HSNC University stated, "We as a university are setting a benchmark for students to be industry-ready. An interdisciplinary approach with the liberty to choose preferred subjects for expertise will add value to the students' learnings while ensuring relevant skills for the industry at the same time. Proactively adapting to the changing times due to the ongoing Covid pandemic, we have ensured that all syllabuses and exams are conducted online. Additionally, in an effort to provide an at par global education, we are also working towards a collaborative effort in presenting a comprehensive distance learning curriculum in association with the prestigious Harvard University. At HSNC University, we are highly motivating the learners to pursue practical experience, research, application of theory in a cross-disciplinary manner, etc., and are aligning with the NEP 2020 well in advance."