Horticulture comes to forefront for crop diversification: PAU VC
Inaugurates workshop for horticultural crops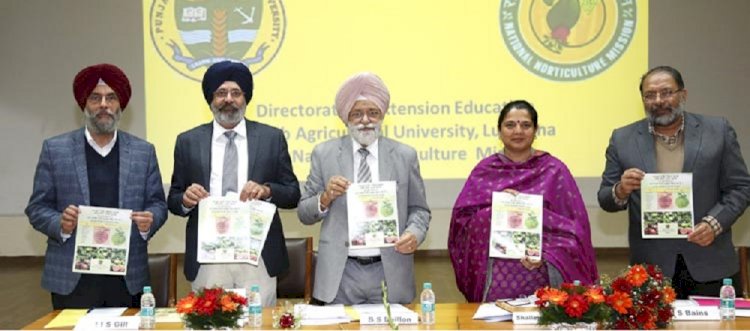 Ludhiana: "Horticulture comes to the forefront for crop diversification," said Dr Baldev Singh Dhillon, Vice-Chancellor, Punjab Agricultural University (PAU), while inaugurating the two-day "Research and Extension Specialists' Workshop for Horticultural Crops (Winter)" at PAU today. Officials of PAU and State Department of Horticulture, Deputy/Associate Directors from Krishi Vigyan Kendras, district extension specialists, and scientists of PAU attended the inaugural function of the workshop, organized by the Directorate of Extension Education, PAU.
In his address, the Chief Guest Dr Dhillon called for focusing on processing technologies as well as marketing. "The PAU is strengthening its Departments of Food Science and Technology; Processing and Food Engineering; and Food and Nutrition in order to promote value addition and marketing of horticultural produce," he added. "Development of new varieties, mechanization, processing and marketing are essential for promoting vegetable cultivation," he observed. Expressing concern over challenges of climate change and water, Dr Dhillon said good planting material of fruit was equally a challenge in farming. He called for initiating research on apples, standardizing processing and rooftop cultivation technologies, promoting nutrition garden model and fortifying seed production.
The Guest of Honour Ms Shailender Kaur, Director of Horticulture, Punjab, said, "The PAU plays a significant role in upgrading the knowledge of the farmers which goes a long way in increasing their income." She urged PAU to lay thrust on standardizing the techniques of guava, peach and sapota for their quality production; developing new varieties for protected cultivation and on organic farming. In view of 30 per cent post-harvest losses, there was a need to focus on post-harvest management also, she added. Throwing light on production, targets and problems in growing of horticultural crops, she stated, "The State Department of Horticulture and the PAU would work together to bring change in the farming of Punjab state."
Dr Navtej Singh Bains, Director of Research, while presenting the salient research findings in horticultural crops, said the PAU has developed four new varieties, namely POH 1 of onion, PC 161 of carrot, and Punjab Bharpur and Punjab Nikhar of brinjal. These varieties are subject to the approval of State Variety Approval Committee, he informed. Dr Bains also highlighted the production-protection technologies, post-harvest management technologies and farm machinery recommended by PAU.
In his welcome address, Dr MIS Gill, Dean, College of Horticulture and Forestry, said horticulture played an important role in diversification.
Dr JS Mahal, Director of Extension Education, while proposing the vote of thanks, said the workshop would be beneficial in discussing and providing solutions to the problems of horticulturists.
During the workshop, Dr Dhillon released a poster promoting guava cultivation. Technical sessions on fruit crops and vegetable science were also held today. An exhibition, showcasing new varieties, production and protection technologies, was put up by various departments of PAU.