HMV received grant of Rs.142 lacs from DBT under Star Scheme
Hans Raj Mahila Maha Vidyalaya, Jalandhar has been sanctioned support under the strengthening component of the DBT Star College Scheme by the Department of Biotechnology, Ministry of Science & Technology, GoI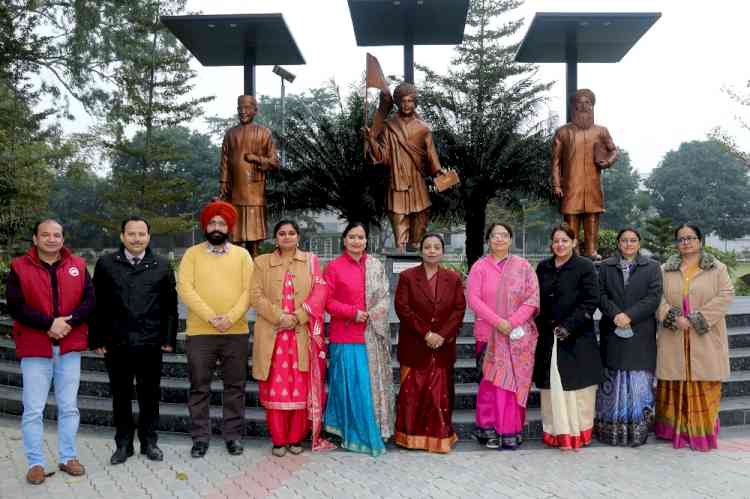 Jalandhar, January 20, 2022: Hans Raj Mahila Maha Vidyalaya, Jalandhar has been sanctioned support under the strengthening component of the DBT Star College Scheme by the Department of Biotechnology, Ministry of Science & Technology, Government of India.
Principal Prof. Dr. (Mrs.) Ajay Sareen expressed her gratitude towards the Department of Biotechnology, Ministry of Science and Technology, Govt of India and informed that seven departments (Botany, Zoology, Biotechnology and Bioinformatics, Computer Sci. and IT, Chemistry, Physics and Mathematics) have been selected for support. She further said that through this programme the departments will focus on improving critical thinking and 'hands on' experimental work at undergraduate (college) level in sciences and encourage more students to take up higher education in science. The scheme will provide support for academic and physical infrastructure for achieving excellence in teaching and unique exposure of students to experimental science. She said that this achievement is possible only due to the sheer hard work of faculty members and blessings of our mentors at DAVCMC New Delhi and Local Committee. Remarking on the positive review of the performance of the college she said that this fresh grant and appreciation by the review committee is a driving force for the college to further venture towards excellence.
Dr. Anjana Bhatia, Dean, Innovations and Research and Coordinator STAR SCHEME informed that through this support the college will thrust upon  strengthening the academic and physical infrastructure for achieving excellence in teaching and training, enhancing the quality of the learning and teaching process to stimulate original thinking through 'hands-on' exposure to experimental work ,  increasing capabilities of core instrumentation resources by procuring new equipment and upgrading of existing facilities,  providing access and exposure to students to research laboratories and industries in the country and other strengthening measures for Science teaching and learning.
Principal Dr. Ajay Sareen congratulated Dr. Anjana Bhatia, Coordinator and Head PG Department of Botany, Dr. Neelam Sharma, Incharge Science Faculty and Head Chemistry Department, Dr. Seema Marwaha, Dean Academics and Head, Zoology Department, Dr. Sangeeta Arora, Head, Comp.Sci. Department, Mrs. Saloni Sharma, Head, Physics Department, Mrs. Gagandeep, Head, Maths Department, Dr. Jatinder, Head, Biotechnology Department and Dr. Harpreet, Head Bioinformatics Department for the achievement.