Himachal government committed to double farmers income: Jai Ram Thakur
Himachal CM presides over inaugural session of international workshop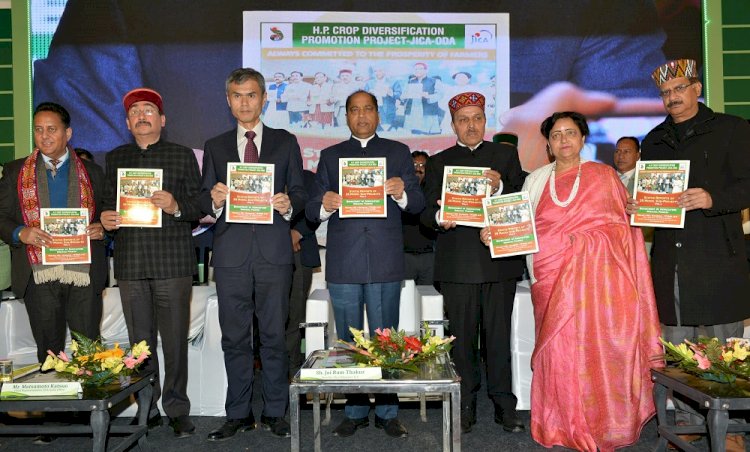 The workshop was held on the topic "impact of crop diversification on farmers income and food security" 
 
Dharamshala: "The focus of the State Government is to empowering farmers organisations and SHGs at cluster, district and apex levels, implement crop diversification plans (CDPs), post-harvest, value addition etc so that the farm income of the farmers of the State could be double by 2022 as envisioned by the Prime Minister Narendra Modi," said  Chief Minister Jai Ram Thakur while presiding over the inaugural session of international workshop on "impact of crop diversification on farmers income and food security" at Dharamshala today. The workshop is being organised by   department of Agriculture.
The Chief Minister said the majority of farmers of the State were marginal and  small and about 80 percent of the cropped area was rain-fed. He said that the Department of Agriculture proposed a loan project for JICA funding covering five most potential districts of the State for crop diversification. The loan agreement of the project was signed in February, 2011 with a total project cost of Rs. 321 crore out of which Rs. 266 crore was a loan amount.
 
Jai Ram Thakur said, " the main objectives of the project was to increase area and production of vegetables through crop diversification, raise income of small and marginal farmers, create infrastructure for irrigation, farm access roads, marketing as well as formation of Krishak Vikas Associations to take over operations and management of irrigation systems besides capacity building of farmers and extension officers of Department of Agriculture." He said that the project was being implemented in close coordination of JICA Technical Cooperation Project (TCP) as a comprehensive program. He said that the farmers income has increased substantially after providing irrigation facility and taking up vegetables cultivation by them. 
 
Chief Minister said, " there is vast potential of off season vegetables cultivation in the state. The state Government has created 59 market yards to ensure remunerative price to the farmers, but we require many more such markets in the state . In order to promote e-NAM and direct marketing of agriculture produced in the state, the state government is committed to provide legal framework."
 
Chief Minister said that the Crop Diversification Plan (CDP) implementation was in progress in these sub-projects and other activities like construction of collection centers, farm access roads, solar pumping system, micro irrigation systems, poly-houses, vermi-compost units have also been completed in most of the sites and remaining works would be completed in the near future. 
 
Chief Minister said , "community participation during planning, execution as well as operation & maintenance of irrigation systems is vital for the success of the project. Irrigation efficiency has been increased by 40-60 percent through micro irrigation system in lift and Tube-well irrigation systems although only about 20 per cent farmland of the State has been brought under irrigation facilities." 
 
Jai Ram Thakur said that the most important reform done in this project is transferring the ownership and Operation and Maintenance (O&M) of the irrigation systems to the farming communities through Krishak Vikas Association (KVA). Linking most of the projects with Farm Access Roads and solar pumping is another milestone, the project has achieved.
He said, " State Government has introduced Poly-house cultivation in the project to supply quality planting material and precision farming. In addition to it, new machinery suitable for hilly areas like power tiller, power weeder, motorized reaper, bush cutter, earth auger, etc. has been introduced through KVAs on custom hiring as well as to group of farmers."
 
 He said that the second Phase of the JICA project worth Rs. 1104 crore  has been posed for funding which would be  approved soon and would be implemented in all the twelve districts of the State. He said that the state government has started solar fencing project to save the crop of the farmers from wild and stay animals. 
 
Chief Representative of Japan International Cooperation Agency (JICA)  Matsumoto Katsuo, who was also the guest of honour said that JICA has  committed to provide all possible help to the State Government to make the JICA project a success in the State.
 
Agriculture Minister Dr. Ram Lal Markanda,Principal Secretary Agriculture Onkar Sharma,Director Agriculture Dr. R.K. Koundal,Urban Development Minister Sarveen Chaudhary, Health and Family Welfare Minister Vipin Singh Parmar, MLAs Ravi Dhiman and Vishal Nehariya, Chief Project Advisor HPCDP-JICA Dr. J.C. Rana and representatives of JICA were present on the occasion among others.