High level Punjab MSME delegation meet with Piyush Goyal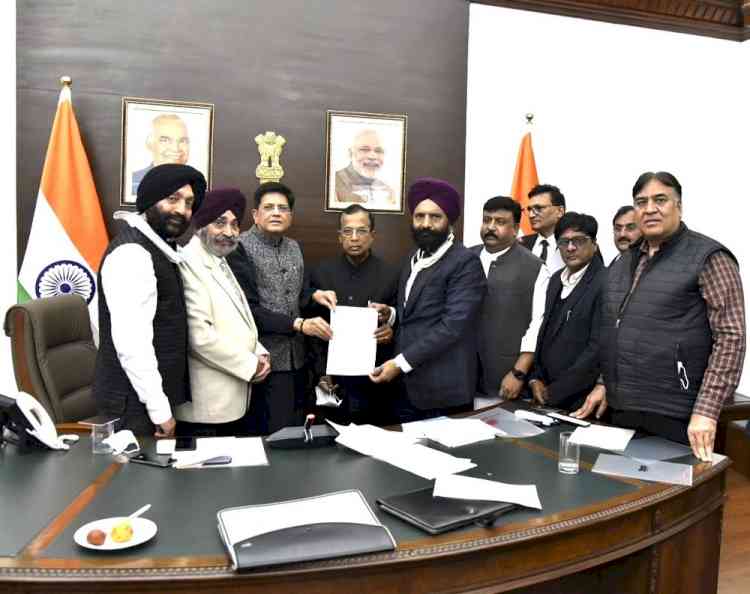 Ludhiana, December 7, 2021: A highly level delegation of prominent industrial stewarts from Punjab meet with  Piyush Goyal, Minister of Commerce and Industry, Minister of Textiles and Minister of Consumer Affairs, Food and Public Distribution and Som Parkash Union Minister of State for Commerce and Industry, today at Parliament House to discuss the burning issues in MSME sector. 
The Meeting was facilitated by  Jiwan Gupta, State General Secretary BJP Punjab, Pushpinder Gupta, District President BJP, Gurdev Sharma Debi, State Treasurer and Mohan Tayal.
The delegation comprised of Upkar Singh Ahuja, President CICU, DS Chawla, President UCPMA, Harsimran Singh Lucky, Gen Sec UCPMA, Rohit Gothi, CEO Hero Cycles, Mahesh Gupta, President Furnace Association, and members of Steel Associations.
Piyush Goyal and Som Prakash discussed all the matters with the delegation in detail and mentioned that they will call a meeting with Steel Minister, senior government officials and Steel Manufacturers to assure MSME should be getting the steel at competitive prices.
The delegation raised issues like continuous rise in steel prices, GST verification on purchase, government support on Non Validation of Vehicle dismantling plant, Export promotion schemes for MSME, availability of Raw Material for MSME. They raised demand that the continuous rise in steel prices should be kept in check under steel regulatory authorities.
At the end the delegation was quite satisfied with the meeting with the ministers and were hopeful that the demands raised today in the meeting will meet with adequate response, and hope the issues will be resolved shortly.