Hero Lectro Cargo unveils maiden flagship store in New Delhi to aid last-mile delivery with e cargo bikes
The flagship store is in the upmarket Lajpat Nagar area of South Delhi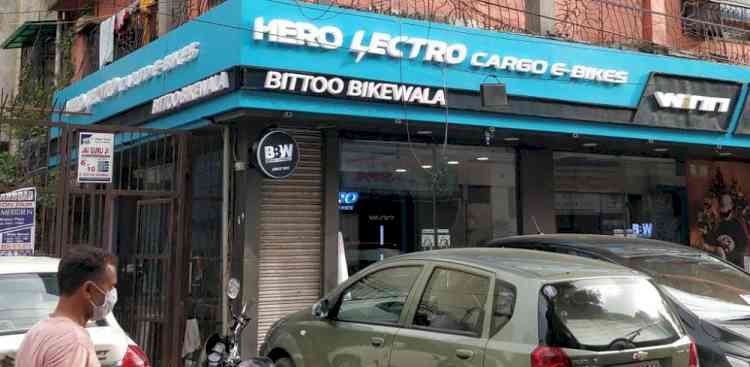 New Delhi: Hero Lectro Cargo (HLC), a division of Hero Lectro, unveiled its first flagship store of cargo e-bikes in the upmarket Lajpat Nagar area of South Delhi today to cater to its consumers – the last-mile e-commerce delivery sector.
The flagship store in the heart of the national capital will display the latest Hero Lectro WINN cargo e-cycle (and its high range variant – WINN X), its first purpose-built cargo vehicle and aims to become the go-to brand for goods mobility and delivery segment, including executives and small business owners who now use either motorbike or scooters. The store marks the maiden collaboration between Hero Lectro Cargo and BittooSondhi, popularly known as BittooBikewala, a well-known face among biking enthusiasts frequenting Lajpat Nagar. The entrepreneur worked hard to rise from his humble background and turned his passion for biking into a profession. At the Hero Lectro Cargo store, one can draw inspiration from his journey while assessing the features of the e-cargo vehicles.
The electric cargo vehicles are poised to revolutionise the home delivery and goods mobility sector by offering cost-effective, reliable, eco-friendly, and ergonomically-viable options for short-distance but high-density commuting since more than 90 per cent of deliveries now happen on either motorcycles or scooters. Amid the rising fuel prices, the e-cargo vehicles like Hero Lectro WINN taps the consumer with a swappable battery that can be charged using a simple socket anywhere, 180 litres of storage space, and a range up to 75Km (available in WINN X variant). It offers a huge potential for increasing per day shipment capacity and better cost optimisation for agents in the goods mobility and delivery segment. The store is equipped with 3S facilities starting with Sales, Service and Spares alongside various supports such as retail finance, insurance etc. for the buyers under one roof.
"Last-mile delivery in India is estimated to achieve a market size of $6 billion by 2024. E-commerce is a significant part of the sector in India and research has shown it is moving in a similar direction like the markets in China and the US. Hero Lectro Cargo aims to capitalise on this untapped potential self-employed workers in the last-mile delivery service and small business owners may derive substantial earnings and cost benefits from these purpose-built vehicles as compared to the ICE engine two wheelers used currently. We are confident that the flagship store will draw the attention of the last-mile operators in one of the busiest business districts in the city and nudge them to optimise their resources," says Mr. Partha Choudhary, Hero Lectro Cargo President and CEO.
Hero Lectro's WINN and WINN X are affordable yet reliable and productivity-oriented vehicles. The store is the first in the series of four outlets planned in major metros, in addition to the traditional dealer-based stores to expand the touch points for the brand.