"Hello, I am Deputy Commissioner Rakesh Prajapati speaking, stay home stay safe"
DC will call all home quarantined people in Kangra district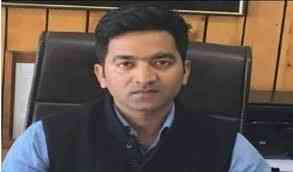 Kamgra Deputy Commissioner Kangra Rakesh Prajapati. (File Photo)
Dharamshala: "Hello, I am speaking Deputy Commissioner Kangra Rakesh Prajapati ,you stay at home, stay safe",  similar calls will come on the mobiles of people who have been home quarantined in Kangra district.
Nearly 45 thousand people from Kangra district have came from other  states, they have been placed under  28-day home quarantine, the complete data of these citizens is available with the district administration and now Deputy Commissioner Kangra, shall  Motivate them on mobile to stay in the house through the call and motivate them to  follow the orders of Health Department. Deputy Commissioner Rakesh Prajapati said , " the whole world is  grappling with the challenges of global epidemic like Corona today, in this era, our slightest negligence can be fatal for our children, family members and society. No medicines have been available  for the corona virus, as such the only way to prevent the spread of corona infection is to ensure compliance with social distance."
He advised all to stay in home- stay safe, follow the instructions of Ministry of AYUSH to increase your immunity, download the Arogya Setu Mobile App to prevent infection, take care of the elderly especially the sick in the house. Pay respect to  Corona Worriers, Doctors, Police personnel , which they  deserve . if any person comes from any outside areas in the family or village, then inform the administration about it.