Health of patient undergoing treatment at DMCH improving: DC
Says patient's first sample post treatment comes negative; second test to be conducted soon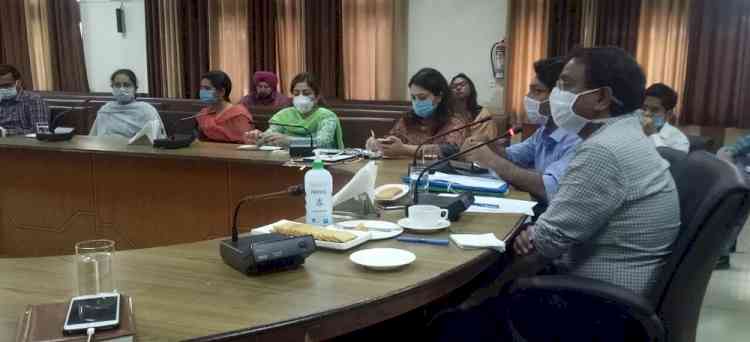 •        227 SAMPLES OUT OF TOTAL 279 SUSPECTED PATIENTS COME NEGATIVE
•        SAYS NO FRESH POSITIVE CASE IN DISTRICT TODAY
•        HOLDS REVIEW MEETING WITH ALL SENIOR DISTRICT ADMINISTRATION OFFICIALS
Ludhiana: In a good news for the residents of district Ludhiana, Deputy Commissioner Mr Pradeep Kumar Agrawal have informed that the health of patient undergoing treatment at Dayanand Medical College & Hospital, here, is improving and even the patient's first sample post treatment has come out negative. He informed that the patient would be discharged after the second sample is also negative.
            While speaking to media persons in his office, here today, Mr Agrawal informed that even the health of the patient undergoing treatment at Christian Medical College & Hospital is also improving. He said that in last couple of days, no positive case have been reported from the district.
            He informed that till date, a total of 279 samples of suspected patients have been sent for testing, out of which 227 samples were negative, while report of 46 samples is awaited. He urged the residents to not panic, stay indoors and follow all guidelines issued by the Punjab government.
            He assured the residents that the district administration is working 24X7 to ensure the safety of residents and dry ration as well as cooked food is being distributed in all parts of the city. He said that from today onwards, a system has been developed in which rehris would be supplying fruits and vegetables in all parts of the city.
            The Deputy Commissioner urged the homeless to shift to the 80 shelter homes set up by the District Administration in different areas of the district, where they would be provided shelter, food as well as medical aid. He said that at present, around 300 persons are residing in these shelter homes.
            He stated that the State government has already made an appeal to the public to not panic whenever cremation of COVID-19 positive patient takes place as the body does not pose any additional threat. He said that the state government has already made it clear that the cremation has no adverse effects if proper protocols are adhered to. So much so that the even the ash does not pose any risk and can even be collected to perform the last rites.
            Earlier, the Deputy Commissioner held a review meeting with all senior district administration officials and issued necessary directions.