Health Minister Punjab launches special poster depicting importance of wearing mask to defeat Covid-19
This noble cause has been initiated by Sewa Sankalap Society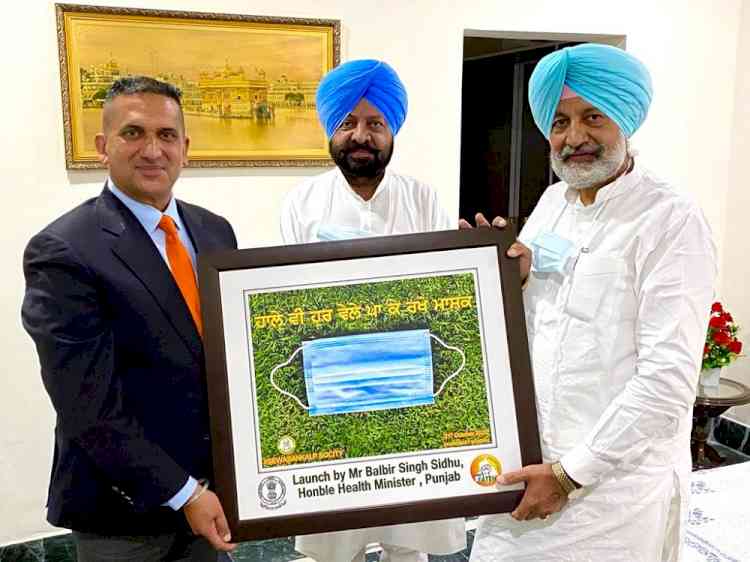 Photo taken during the launch of Special Poster depicting importance of mask by Health Minister Punjab Balbir Singh Sidhu , along with Advocate Harpreet Sandhu .
Ludhiana: Today the Health Minister Punjab Balbir Singh Sidhu launched,  `A Special Poster Depicting the Importance of Wearing Mask to fight Covid 19'  - this noble cause has been  initiated by Sewa Sankalap Society through its Vice President  High Court Lawyer' Harpreet Sandhu, with initiating  Safety Awareness Slogan Drive to defeat Covid-19 with sole motive to spread" the awareness on safety measures to fight Covid-19 within the citizens of Punjab and also spreading the importance of wearing a Mask, maintaining  Social Distance , following the safety guidelines laid by the State Government. This drive was initiated under the patronage of Deputy Commissioner of Ludhiana Varinder Kumar Sharma IAS, in collaboration Sewa Sankalp Society and the eminent Doctors of Hero Heart DMC Ludhiana since June 2020 

A short documentary depicting the sequence of the events organized within the different sections of Society highlighting the Safety awareness for Covid19 i.e. "Self-Protection is The Best Protection and showing the  Importance of Mask at this ongoing state of Covid-19 will be released in Ludhiana on 3rd November 2020, to which the Health minister Punjab gave his message for citizens of Punjab to must watch the short documentary film depicting the importance of mask  made by Advocate Harpreet Sandhu , scheduled to be released online by Police Commissioner Ludhiana on 3rd November in Ludhiana and Health Minister Punjab applauded the dedicated efforts of promoting the Safety Drive  by Punjab based Lawyer Harpreet Sandhu for  more than 100 days to a a good  cause in the interest of humanity in Covid times.