Harish Rawat interacts with Congressmen during his maiden visit to Ludhiana
Says the Punjab government is standing rock solid with the Punjabi farmers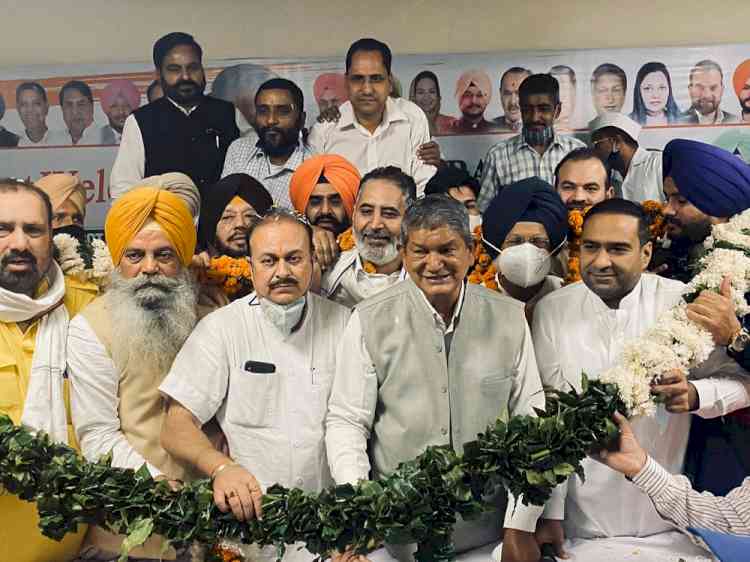 Ludhiana: All India Congress Committee (AICC) general secretary and Punjab affairs in-charge Harish Rawat today held a meeting with the Congressmen at Circuit House, here. After assuming charge as Punjab affairs in-charge, this was his first visit to Ludhiana.

    Today's meeting was organised by DCC Ludhiana (Rural) president Karanjit Singh Soni Galib and DCC Ludhiana (Urban) Ashwani Sharma and was attended by Fatehgarh Sahib MP Dr Amar Singh, MP Mohd Sadiq, MLAs Rakesh Pandey, Surinder Dawar, Sanjay Talwar, Kuldeep Singh Vaid, Mayor Balkar Singh Sandhu, former MP and Sugarfed Chairman Amrik Singh Aliwal, PMIDB chairman Amarjit Singh Tikka, PSIDC Chairman KK Bawa, PSIEC Chairman Gurpreet Singh Bassi, Gurdev Singh Lapran, Councillor Mamta Ashu, Kamaljit Singh Karwal, Youth Congress leader Kamil Boparai, Yogesh Handa, besides a large number of congressmen.

    While interacting with the mediapersons, Harish Rawat said that in the interest of the farmers, the Punjab government has passed bills in the state assembly for securing farmers' interest and now the ball is in Punjab Governor's court. He also encouraged the Congress leaders of the state for staging protests against the Centre's stand in New Delhi and said that the Congress would take the fight to every level possible. 

    "Punjab CM has even asked the Centre that he is ready to resign for the interests of the farmers. If the BJP does not change its stand, then Congress has announced that upon coming to power, these black laws will be demolished," he said.

    He said that not all the rail tracks have been stopped in Punjab. "It is a symbolic protest by the farmers for their rights and demands and we respect the same. The Central government is punishing the states of Punjab and Haryana. The trains should be run wherever it is possible and states should not be defamed. Why are they not talking to the farmers? On the request of Punjab CM Amarinder Singh, the farmers had deferred their agitation for some days and the government should have grasped this opportunity and resolved their problems," Harish Rawat said.

    During the meeting, Rawat said that the Punjab government is standing rock solid with the Punjabi farmers. He also urged the congressmen to ensure that farmers get their rights.