Happy mind is the home to a healthy body
Says Priyanka Purohit from Sony SAB's Tera Kya Hoga Alia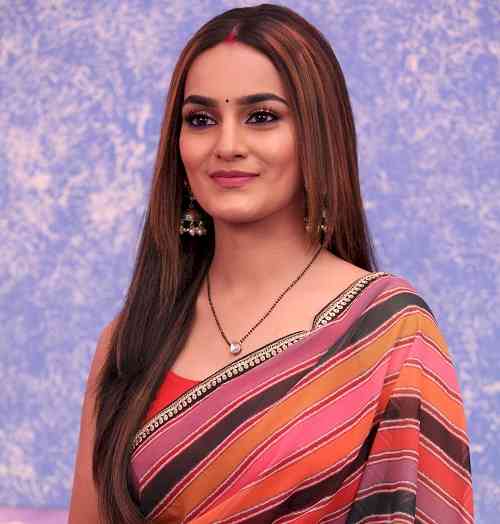 Priyanka Purohit as Tara on Sony SAB's Tera Kya Hoga Alia.
What does fitness mean to you? Any fitness mantra?
Fitness in my life is incorporated in the most simple and easy ways. It is necessary to be active and I feel fitness for me is a way of life. Making conscious decisions regarding what you choose to eat, drink and how you live your life determines your fitness.
I don't have any strict rule or a mantra. I don't even go to the gym. Portion control and smart choices in selecting my meals is the key to my fitness. I always ensure to maintain the portion of my meals and I heavily rely and live on home cooked meals. Also, drink a lot of water. It helps flush out toxins from your body and keeps you fresh.
 
How do you keep a healthy balance between your mind and body?
I think, for a healthy mind, I focus on being around like-minded people who are progressive in their thoughts. The company you keep has a huge impact on mind and therefore your body. So, I think it is necessary to be with people you are happy with and I strongly believe that a happy mind is the home to a healthy body. I really love to spend time with my close ones every now and then. Also, doing well in my profession and putting my best foot forward as an artiste is something that keeps me going.
 
Following your demanding and hectic routine, how do you manage to stay fit and maintain a healthy lifestyle?
Shoots can be really hectic sometimes but I make it a point to take break whenever I can to rejuvenate myself. It gets challenging to take time out from the routine to work out. I think I'm blessed with great metabolism as well. While I don't get enough time to work out, I instead make healthy food choices.
I am a complete foodie as well and on the sets of Tera Kya Hoga Alia, I enjoy snacking every now and then but only healthy snacks.
 
One food item you simply cannot resist?
PaniPuri! I simply cannot resist this. It is one of the best Indian street foods. PaniPuri is something I can even binge on.
 
Any fitness tip for your fans and viewers?
The key to fitness is happiness and a calm mind. I urge all the viewers of Sony SAB and Tera Kya Hoga Alia and everyone reading this to eat healthy and also have your cheat days sometimes. Drink plenty of water and do any physical activity that you enjoy.