Halwai shops in Ferozepur to remain open on august 2 on account of Raksha Bandhan: DC Ferozepur
Facebook Live: Says, visitors of halwai shops will be provided with the face masks under Mission Fateh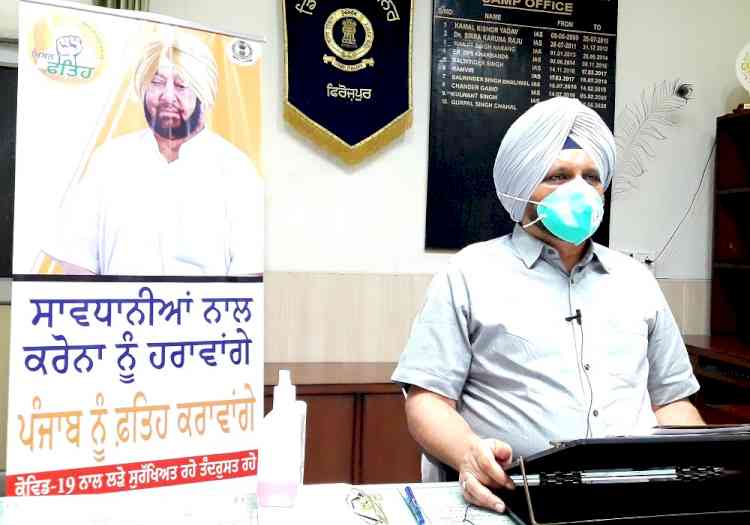 Deputy Commissioner Ferozepur Mr. Gurpal Singh Chahal.
Ferozepur: Halwai (sweet) shops in the district are allowed to remain open on Sunday, August 2, given the Raksha Bandhan festival, said Deputy Commissioner Ferozepur Mr. Gurpal Singh Chahal through his weekly Facebook live session on Wednesday evening.

Addressing the Ferozepurians through his third live session, the deputy commissioner said that as per the announcement made by the Chief Minister Captain Amarinder Singh, the Halwai shops in the district have been allowed to function on Sunday keeping in view the forthcoming Raksha Bandhan festival on August 3, 2020.

He further added that earlier shops were not permitted to open in the district on account of the Sunday lockdown, which was imposed due to the emerging COVID-19 crisis. However, the state government has issued relaxation because of the upcoming Raksha Bandhan festival. The deputy commissioner further added that on the following Sunday, visitors of Halwai shops will be provided with the face masks under mission Fateh as the elaborate arrangements were already made in this regard.

Sharing the latest situation with the people, Mr. Chahal said that as a part of augmented testing capacity a total of 300 samples were being sent to the lab daily and, so far 18142 samples have been collected in Ferozepur out of which 333 cases have been reported positive. He further added that 211 patients have recovered from this disease and 116 cases are active in the district and the situation was completely under control, so people didn't have to be panicky about the crisis.

The deputy commissioner called upon people to follow the guidelines issued by the authorities as religiously practice the norms like washing hands, wearing masks, maintaining social distancing, and giving special care to the elderly and children. Mr. Chahal said that with the combined efforts of all of us, we can win this war against the pandemic.